Oh my goodness! You gotta love these treats.
This recipe is for 4 burgers, so if you have more mouths to feed, simply adjust the recipe.
4 x 6 oz. Trout fillets
1 tbsp. kosher salt
1 tbsp. brown sugar
1 cup teriyaki sauce (we use Edo of Japan's Teriyaki  sauce)
1/2 tsp. sesame oil
1/2 cup mayonnaise
2 tsp. grated ginger
1/2 pineapple, cored and cut in 1/2 inch slices
3 tbsp. vegetable oil, divided
1 tsp. sesame seeds, toasted
4 lettuce leaves
4 Brioche burger buns
Sprinkle the trout with the salt and sugar. Place on a plate and refrigerate for about 15-20 minutes. Remove from the refrigerator and rinse them completely. Pat dry with paper towels.
Heat the teriyaki sauce in a small saucepan over a medium heat until it is reduced by almost half.
Preheat the bbq to a medium temperature and grease the grills with 2 tbsp. of the oil. Rub the remaining 1 tbsp. oil on the pineapple and trout.
Grill the trout for 3-4 minutes each side until you have reached your level of doneness, brushing with the teriyaki sauce.
Grill the pineapple slices 3 minutes each side. Remove the trout and pineapple from the grill.
Heat the buns on the top rack of the bbq.
In a small bowl, mix the mayonnaise, sesame oil and ginger well.
To assemble these delightful treats, spread the mayonnaise on both insides of the bun, place a fillet on the bottom bun and drizzle with any remaining sauce and sprinkle with the sesame seeds. Top each one with a pineapple slice and lettuce leaf. Add the bun top and you are ready to dine. Make sure you have a few napkins handy and, of course, a glass of chilled beverage (your choice).
The nice weather has finally arrived and this is a great way to enjoy a lunch on the deck or a starter for dinner. Your choice…but maybe you'll want both. A salad with a protein is always welcomed.
Soak wooden skewers in water for about an hour.
uncooked pineapple wedges cut into 1 inch chunks 12-15
20-30 large raw shrimp, peeled and deveined
4-5 cups mixed greens
add your favourites such as: green seedless grapes, halved,
4-5 strawberries- hulled, baby tomatoes, toasted pecans or salad toppings, raw mushroom slices
The above ingredients will serve 4-5 people.
Marinade
1/2 cup Pear juice
1 tbsp. lime juice
5 tbsp. olive oil, divided
1 garlic clove, minced
1 tsp. sugar
pinch of salt
In a blender, puree all the ingredients until really smooth.
In a small bowl briskly drizzle the olive oil and whisk into all the ingredients to form a dressing type of marinade.  Reserve 1/4 cup of the marinade. Add the shrimp and toss to coat well. Set aside for 30 minutes.
In a separate large bowl, prepare the salad and your toppings.
Vinaigrette
1/4 cup of the reserved marinade
2 tbsp. wine vinegar
3 tbsps. pear juice
1/2 tsp, Dijon mustard
1 clove garlic, minced
pinch of salt and pepper
Preheat your grill to a high heat. Remove the shrimp from the marinade and thread them onto the soaked skewers. Cook each side for 1-1 1/2 minutes until they are opaque throughout.
On separate skewers, thread the pineapple cubes and cook a few minutes longer than the shrimp so the centers become soft.
Serve the salad onto individual plates, add the shrimp and pineapple cubes and drizzle the Vinaigrette over the top. Here you get to use as much as you want on your plate.
Warm rolls and you have a wonderful meal.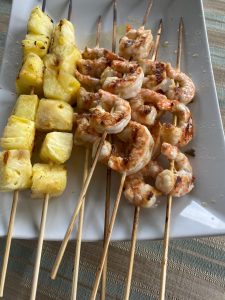 This site has several recipes for making Quiche. Well, friends, here is another one.  Don baked a beautiful ham and, of course, we had some leftovers. There is no crust to worry about and, if you really want to be a tad 'lazy', serve it with some frozen hash browns. Just sayin'.
2 tbsp. dry plain bread crumbs (can make your own)
1 tbsp. butter
1/2 cup chopped fine onions
1 1/4 cup of diced cooked ham
8 oz, shredded Swiss cheese
4 large eggs
1 cup whipping cream
1 cup whole milk
Preheat oven to 425 degrees.
Butter a quiche dish or pie plate and sprinkle in the bread crumbs all over to cover the pie plate.
Cook the onions in the butter until golden in colour. This should take about 5 minutes. Add the ham and cook only enough to warm it up. Spread this mixture on the bottom of the dish and sprinkle the cheese on top.
Whisk together the eggs, cream and milk and when well blended, carefully pour over the cheese. Set plate on a baking tray lined with parchment paper (in case it runneth over) and bake until the top is golden and set in the center. This could take 20 minutes.  Reduce to 375 degrees for a further 20 minutes. Test for doneness. Add 2 minutes if needed. Cool for about 5-6 minutes, before cutting in wedges.
If this is breakfast or brunch fare, serve with hash browns. If it is a main lunch serve with a beautiful green salad, warm buns and a glass of lovely white wine.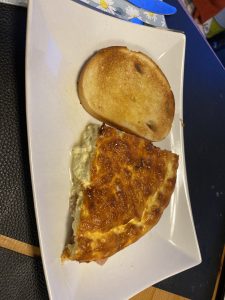 This is light and refreshing and makes a lovely lunch to serve anyone.
1/4 cup sugar
1/3 cup pecans, coarsely chopped
1 bunch Romaine lettuce
2 cups Raspberries or Blackberries (or a cup of each)
In a small skillet over medium temperature, cook and stir the sugar until melted and a light caramel colour. This will take about 9-10 minutes. Now add the pecans and stir to coat. Spread out on parchment paper to cool. Break up in small pieces. Set aside.
In a large bowl, tear up the lettuce into bite-size pieces and combine the berries. Nothing is worse that a large piece of lettuce hanging out of a ladies mouth because it was too big. Right?
Creamy Dressing
1/4 cup mayonnaise
2 tbsp. sugar
1 1/2 tbsp. sour cream
1 tbsp. cream
1 tsp. poppy seeds
Whisk the ingredients together,  and drizzle over the salad and toss to coat.
Sprinkle the top with the coated pecans. This will yield 10 servings unless you are all really, really enjoying it.
Serve with warm Brioche buns and a glass of the chilled white grape. Enjoy!
Don wanted to make a shrimp salad tonight for dinner but Kelly and I changed it to a Po' Boy. It was soooo delicious. Try it and I know you will love it as well. Beats a heavy dinner and could also make a super lunch.
2 lbs. peeled and deveined shrimp
kosher salt and freshly ground pepper to taste
2 tbsp. freshly squeezed lime juice
1 cup finely diced celery
2 thinly sliced scallions
2 tbsp. freshly minced tarragon leaves
2/3 cup Hellman's mayonnaise
4-6 Brioche buns, warmed in the oven
In a large saucepan add 7 cups of water and turn the heat to medium. Cook the shrimp for about 8-9 minutes, stirring them gently occasionally until they turn pink and are firm to the touch. Drain off the water.
Cut the shrimp in half in the middle and place in a bowl to cool down. Tamp with a paper towel to remove any excess water.
When cool, add the lime juice, generous pinch of salt and half that of pepper. Add the celery, scallions, tarragon and mayonnaise mixing well to combine then place in the refrigerator for about an hour.
Place the brioche buns in the oven to get warm (not toasted), and butter each side. Fill each bun with as much shrimp as the bun could possibly hold. Cut the sandwich in half, set on a pretty plate add several napkins, a glass of wine and my, oh, my, you will think you hear angelic music.
These are so awesome.
I always have a package of these shells in the freezer and this is a wonderful way to use them and enjoy a great light lunch or dinner before going out for the evening.
1 cup chicken stock (homemade is best)
1 bay leaf
4 tbsp. butter
1 minced large shallot
1/2 – 3/4 cup chopped white mushrooms, trimmed and cleaned
1 tbsp. flour
2-3 tbsp. good white wine
2 cooked chicken breasts, skin removed
1/4 cup creme fraiche
1 tsp. mustard
salt and pepper to taste
1/4 cup chopped fresh parsley
6 Vol au Vent shells, baked as per instructions on package
In a saucepan, put in the stock and bay leaf and bring to the boil. Turn off the heat.
Melt the butter in a fry pan and cook the onions for a couple of minutes. Add the garlic and cook a further minute.
Add the mushrooms and cook until tender and golden in colour.
Sprinkle the flour  over and, stirring constantly, cook for a minute. Add the wine and continue cooking until it has all evaporated. Pour this into the stock and add the chicken breasts. Cook this for about 3-4 minutes, until thickened.
Stir in the remaining ingredients. Carefully spoon into the baked shells. If you wish, pour a glass of chilled white wine and Voila! a perfect meal.
Enjoy.
You can't think what to make for lunch!  Here is an easy, all in your cupboard ingredients, and takes seconds to make.
2 cans flaked white tuna
1/2 cup creamy coleslaw*
2 radishes, thinly sliced
1 lime, cut in wedges
8 small tortillas, soft
Coleslaw Recipe
1 cup shaved cabbage
1/4 cup , grated
2 tbsp. sour cream
pinch of salt and pepper
This is the easy part….mix the coleslaw together. Load the tortillas with the flaked tuna, top with the coleslaw, top with the radishes and serve with a lime wedge.
Told you it was simple. Now everyone will want this again and dagain.
Here is another way to make something new…we are supposed to be learning something while at home, so this is delicious and you will probably make it again and again.
2 1/2 cups flour, plus 2 additional tbsp.
1 tsp salt
1/2 tsp. cayenne
1 cup lard
2-3 tbsp. ice water
2 tbsp. butter
1/2 cup minced onion
pinch of salt/pepper
4-5 cups white mushrooms, sliced
1 tsp. chopped garlic
2 cups heavy cream
3 large eggs
dash each of hot pepper sauce and Worchestershire sauce
1 cup grated cheddar cheese (white is preferred)
4 ounces Asiago cheese, shaved
2 cups pea shoots
white truffle oil, sprinkle only
In a mixing bowl combine the first three ingredients. Cut in the lard until it resenbles a coarse meal.
Add the ice water and mix until the dough comes away from the sides of the bowl. Cover and place in the refrigerator for 1 hour.
Preheat oven to 350 degrees. Remove the dough from the refrigerator and let sit for about 5 minutes. Roll out the dough on a floured board to a 12 inch round and 1//4 inch. Fold the dough into quarters and place it on a 10 inch tart pan. Roll a rolling pin over the entire surface to remove the excess dough. Prick the bottom all over with a fork.
In a medium suace pan melt the butter, add onions, salt and pepper and saute for about 1 minute. Add the mushrooms and saute for 4 minutes until they hahve wilted. Stir in the garlic and remove from the heat. Cool completely.
In a small bowl whisk together the cream annd eggs. Season with the hot pepper sauce, Worchestershire sauce and a pinch of salt and peppere. Mix well.
Pour the mushroom mixture into the pastry shell and sprinkle the cheese over. Bake until the center sets which should take about 55 minutes. Remove from the oven and cool for 5 minutes before slicing to serve.
In a bowl toss the pea shoots with the slightest drizzle of the truffle oil and garnish each slice with a pile of pea shoots.
YUM!
This is a wonderful quick lunch or even faster dinner when you don't want to cook or don't have the time. Yummy to say the least.
4 Brioche Hamburger buns
1/2 grated garlic clove (optional)
1/4 cup butter, melted
2 cups Champs Fleury cheese, sliced thin or even grated
1 cup chopped cooked ham
2 cups sauteed mushrooms in 1/4 cup butter
Slice the buns in half and brush melted butter on the cut sides. If using garlic, sprinkle a bit of the grated garlic equally on the buns.
Place the buns on a cookie sheet and set in a 350 degree oven for about 10 minutes. Turn the pan around and bake 5 minutes more.
Combine the cheese and ham and spoon on each of 4 buns.  Now generously spoon the mushrooms over the top. Add more cheese on top and broil only until melted. Place the top side of the bun at an angle and watch the faces of those getting one.
If you can eat more than one, simply double the recipe. Darn,,,this has made me hungary.
I was reading this recipe over and immediately thought of Hawaii. It sounded so delicious I am going to share with you. Besides, it made me hungary.
12 Hawaiian sweet buns, still intact 9 x 13″ baked form
3/4 cup alfredo sauce, store bought jar
12 slices of Black Forest Ham, thinly sliced
1 – 14 oz. can crushed pineapple, well drained
2 1/2 cups grated Tex Mex cheese
Preheat oven to 375 degrees. Remove the buns from the package, keeping in tact, and slice horiontally . You will have tops all together and bottoms all together. Place the bun bottoms in a 9 x 13 inch baking dish.
Spread the alfredo sauce over the bun bottoms, Layer on the ham slices, and spoon on the crushed pineapple, spreading to cover the buns.
Sprinkle the cheese on top of the pineapple and add the bun tops.
Melt together 1/4 cup butter, pinch of garlic powder and 1 tsp. brown sugar together. Brush over the tops of the buns. Cover with tin foil and bake for 30-35 minutes until the cheese has melted.
Now, to serve, with a very sharp knife, cut through each slider,making sure to cut completely through. Serve with a light salad, glass of wine and smile like you were really in Hawaii.
YUM! Note: These will not store well, so…eat them all up.
Grilled cheese must be comfort food at its best.  To take it up a notch, try this one. You will be a heroine for sure.
1 tsp. liquid honey
1/4 cup grated cheddar cheese
1 thinly sliced apple
1/2 avocado, thinly sliced
1/4 cheddar cheese,
artisanal bread, sliced
1 tbsp. melted butter,
Brush each slice of the bread on the outside with the melted butter. Layer with the first layer of cheese, then the apple and avocado, another cheese layer, and topping with the 2nd slice of bread.
Heat a fry pan over medium heat and place a sandwich in the pan. Cook until it is golden and then turn over and repeat. This should take about 5 minutes.
Repeat this for each of the 4 sandwiches.
Salad
2 cups baby mixed greens,
1/4 cup coarsely chopped pistachios
  1 green apple, thinly sliced
1 tbsp. fig balsamic vinegar
1 tsp. Crisco oil
1 tsp. liquid honey
Mix all together in a bowl and divide equally on 4 plates with the sandwiches.
YUM!
We are always looking for something different to showcase when company comes. This is a really neat one because you make individual pies (easier than it sounds) and everyone think you are a wizard.
2 1/2 lbs. trout
1 1/2 lbs. medium size shrimp
1 – 2 lb. lobster tail
6 scallops, halved
2 cups celery, ribs removed, chopped
1 1/4 cups white wine (sip for the cook)
2 bay leaves, crumbled
1/3 cup butter
1 large onion, chopped
4 cups sliced white mushrooms
1/2 cup flour
3/4 tsp. ground ginger
3/4 tsp. ground nutmeg
3/4 tsp. salt
3./4 tsp. ground pepper
3/4 cup whipping cream
1/2 cup chopped parsley
1 tbsp. chopped fresh thyme
1-2 pkgs. puff pastry, thawed
1 egg yolk for brushing
Cut the trout into 1 inch cubes, reserving the skin, bones and trimmings. Peel and clean the shrimp, reserving shells, slide skewer through length of lobster in shell and set aside.
In a large saucepan over medium heat, bring 3/4 cup of water, fish skin, shells and bones, shrimp shells, celery, wine and bay leaves to a boil. Strain liquid through a sieve into a clean saucepan and bring to a boil. Add the shrimp and lobster, reduce heat, cover and simmer until shrimp turn pink (about 2 minutes). Using a slotted spoon remove the shrimp and continue cooking the lobster another 2 minutes.
Transfer the shrimp to a bowl and now remove the lobster from the shell, remove from the shell and cut into bite size pieces and add to the shrimp.
Return liquid to a boil, add the trout and simmer until the fish flakes when tested with a fork. This should take about 4 minutes, Using a slotted spoon, remove and transfer to the seafood bowl.
Pour the liquid into a measuring cup, adding water to make 2 1/4 cups.
In a saucepan melt the butter over a medium heat, add the onions and mushrooms, cooking until softened (6 minutes). Stir in the flour, ginger, salt, pepper and nutmeg and cook for one minute. Gradually whisk in the liquid, cooking until boiling and becomes thickened and slightly reduced – 6-8 minutes. Stir in the whipping cream and bring to a boil. Remove from heat and add the parsley and thyme.
Brush the bottom and sides of 8 – 1 1/2 cup ramekins with butter. Evenly spoon the seafood into each one and top with the sauce to cover.
Roll out the puff pastry, cutting to fit each ramekin. Beat the egg yolk with a tsp. of water and brush over the puff pastry. Cut a slit in the top of each one. Preheat oven to 400 degrees. Place the ramekins on a parchment lined baking sheet and bake for 20 – 30 minutes until golden.
Plate and place a lemon wedge on side. Add a salad and warm roll.
What more could you ask for? Well, okay…. glass of chilled white wine would make this more than perfect.