Whoa! What a way to use up leftover baked ham.  We love this one. Take a peak at the photo and you can see why.
1/4 cup butter, cubed
2 cups cauliflower chunks
2 cups asparagus, peeled and cut in 3 inch sections
1/2 lb. sliced fresh white mushrooms
3 medium carrots, sliced into 3 inch toothpick sticks
1/2 cup flour
1 1/4 cups 2% milk
1 1/4 cups vegetable broth
1 3/4 cups cubed, fully cooked ham
2 tbsp. minced fresh parsley
1/4-1/2 tsp. ground nutmeg
pinch of pepper
1 sheet frozen puff pastry, thawed
1 large egg, beaten
Preheat oven to 425 degrees. In a large saucepan heat butter over medium heat and add the cauliflower, mushrooms and carrots, cooking and stirring until tender.
Stir in the flour until blended. Gradually add the milk and broth. Bring to a boil, stirring constantly and add the asparagus, cooking until thickened (about 2 minutes). Remove from heat and add the ham, parsley, nutmeg and pepper.
On a lightly floured surface, roll the pastry to 1/2 inch thickness. Using a 10 oz. ramekin to use as a template, cut 4 tops for the pies. Fill 4 buttered ramekins with the vegetable mixture and top with the pastry. Cut slits in the pastry to allow steam to escape and brush each top with the beaten egg.
Bake for 19 minutes and let stand at least 5 minutes before serving. Add a green salad, glass of wine and enjoy! We did and there is no ham left.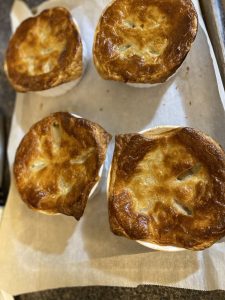 YUM! What a wonderful soup to prepare and enjoy with your homemade croutons and a little fried sage as a garnish. The cooler (cold) weather is coming and it is a nice way to start the season.
1 lb. cubed, peeled butternut squash
2 garlic cloves, smashed
1 generous sized sweet potato, peeled and cut in cubes
1 onion, chopped
3 tbsp. good olive oil
pinch of white pepper
1 tbsp. butter
1 McIntosh apple, peeled and chopped
1 900 ml vegetable broth (no salt)
1/3 cup whipping cream
2 tsp. lemon juice
Preheat oven to 400 degrees. In a large bowl toss together the squash, garlic, potato, onion, pinch of salt and pepper mixing well. On a baking sheet lined with parchment paper, spread the mixture out and bake for 15 minutes, turn the vegetables over and bake a further 15-17 minutes until tender.
In a large pot, melt the butter over a low heat and cook the apple until soft,  stirring gently for about 6-7 minutes. Stir in the vegetable mixture and pour in the broth bringing up to the boil. Reduce the temperature and simmer for about 5 minutes.
Remove from the heat, add the cream and lemon juice. Blend this until smooth. Now the fun part, strain back into the pot so you have a perfectly smooth soup. Don't cheat or it won't be the same.
Croutons
7 tsp. olive oil
2 slices white bread cut into 1/2 inch cubes
2-3 tbsp. finely grated Asiago cheese
In a skillet, heat the oil and cook the bread for about 5 minutes, tossing until a golden brown. Remove from the heat and toss with the grated cheese. You are almost done.
Sage
1 tbsp. olive oil
6-7 sage leaves
In a small frypan cook the sage leaves until crisp (about 3 minutes). Remove from the pan and place the leaves on a paper towel to cool.
To serve, heat the soup up and ladle into pretty bowls, top with the croutons and a leaf or two.
Now you can proudly say "damn I did this".
Don wanted to make a shrimp salad tonight for dinner but Kelly and I changed it to a Po' Boy. It was soooo delicious. Try it and I know you will love it as well. Beats a heavy dinner and could also make a super lunch.
2 lbs. peeled and deveined shrimp
kosher salt and freshly ground pepper to taste
2 tbsp. freshly squeezed lime juice
1 cup finely diced celery
2 thinly sliced scallions
2 tbsp. freshly minced tarragon leaves
2/3 cup Hellman's mayonnaise
4-6 Brioche buns, warmed in the oven
In a large saucepan add 7 cups of water and turn the heat to medium. Cook the shrimp for about 8-9 minutes, stirring them gently occasionally until they turn pink and are firm to the touch. Drain off the water.
Cut the shrimp in half in the middle and place in a bowl to cool down. Tamp with a paper towel to remove any excess water.
When cool, add the lime juice, generous pinch of salt and half that of pepper. Add the celery, scallions, tarragon and mayonnaise mixing well to combine then place in the refrigerator for about an hour.
Place the brioche buns in the oven to get warm (not toasted), and butter each side. Fill each bun with as much shrimp as the bun could possibly hold. Cut the sandwich in half, set on a pretty plate add several napkins, a glass of wine and my, oh, my, you will think you hear angelic music.
These are so awesome.
This recipe is where, on gluten-free diets, milk products can be tolerated  so now everyone  can simply enjoy without concerns.
3 – 8 oz, pkgs. cream cheese
1 cup white sugar
5 eggs, room temperature
1 tsp. pure vanilla
Preheat oven to 350 degrees. Line muffin tins with liners, if you use them. Otherwise spray with Pam or like product.
In a medium bowl cream together the cream cheese and sugar. Stir in the eggs, one at a time and then add the vanilla. Spoon into the muffin tin to 3/4 full.
Sour cream Topping
8 oz. sour cream
1 cup white sugar
1 tsp. pure vanilla extract
To make the topping, whisk together the sour cream, sugar and vanilla until completely smooth. Spoon into the center of each muffin.
Bake for 30 minutes in oven until a golden brown. Remove from the oven and cool down for 5-10 minutes. Now return it to the oven and bake for additional 7 minutes until set. Place pans on rack to cool,.
DO NOT remove from the oven until completely cool.
Don made this back in 2007 for his niece and I decided to resurrect it once more. It is beyond delicious and I hope you will give it a try.
12-16 Manicotti shells, cooked 10 minutes
1/2-1 lb. frozen crabmeat, flaked (mock crabmeat is just as good here)
1/2 lb. wilted spinach
1/2 cup grated Parmesan cheese
1 large egg, beaten
1 tsp. salt
Parmesan cheese sauce (below)
1/2 cup grated Asiago cheese
Preheat oven to 400 degrees. Cook the manicotti shells as directed for 10 minutes. Set aside to cool.
Spray the bottom and sides of a 9 x 13 baking dish.
In a medium bowl, combine the crabmeat, spinach, cheeses, egg and salt. Mix well.
When the shells are cool enough to handle, stuff carefully with the crabmeat mixture and set in the baking dish. Cover completely with the Parmesan cheese sauce and sprinkle with the Asiago cheese.
Bake uncovered for about 25 minutes.
Parmesan Cheese Sauce
1/2 cup butter
1/2 cup flour
5 cups milk
2 cups freshly grated Parmesan cheese
1/2 tsp. salt
pinch of pepper
3-4 drops of Tabasco
In a saucepan make a roux with the melted butter and flour, stirring until bubbling. Slowly add the milk and stir until thickened.
Add the cheese, salt, pepper and tabasco sauce, stirring again, until the cheese melts.
Call the family to the table, add a green salad and enjoy. Oh and more wine please…..
Last night Don made Fish and Chips and I have to be honest….they were THE best yet. So  we agreed no more ordering in. You might be surprised at one of the ingredients but, boy oh boy, it worked.
3 large russet potatoes
vegetable oil for deep frying
1 1/4 cups flour
 2 tsp. baking powder
kosher salt
1/4 tsp. cayenne pepper
1/2 bottle chilled n.a beer
1 1/2 lb. skinless cod fillets, cut into 4 fillets
Malt vinegar, lemon wedges for serving
Slice the potatoes lengthwise into 1/4 inch sticks. Add to the ice water as you work. Let sit for 30 minutes and lift out, rinsing well and patting really dry.
Preheat oven to 350 degrees. Heat about 4 inches of oil in a large frying pan until a thermometer reaches 280 degrees. Add half the potatoes and fry until just tender but no colour. Remove with a slotted spoon to a paper lined plate. Repeat with the remaining potatoes then turn the temperature up to 365 degrees.
Whisk together the dry ingredients, using only 3/4 cup of flour, with the beer until MOSTLY smooth. Let sit for about 5-6 minutes to thicken up.
Set a rack on a rimmed baking sheet. Season the fish with salt and  working in two batches, dredge the fish in the remaining 1/2 cup of flour, then dip into the beer batter, letting the excess fall off. Fry until crisp and golden brown (about 4 minutes). Transfer to the rack and place in the oven to stay warm.
Increase the temperature of the oil for 380 degrees. Working in two batches again. fry the potatoes until golden brown, about 2 minutes. Drain on a paper lined plate. Finish the second batch and then plate and serve.
OMG!!!!n So yummy.
Don made this for dinner one night last week and we are all still praising this dish. It is more than awesome and, trust me, you will love it.
White Wine Sauce
1 tbsp. butter

 1 tbsp.  olive oil

4 cloves minced garlic
1 cup white wine
1 cup whipping cream
1/4 cup Parmesan cheese, shredded
2 tbsp. capers, drained
1 tsp. freshly squeezed lemon juice
pinch of salt
8 oz. spaghetti
1 lb. medium sized scallops (about 16 and completely thawed, if frozen).
pinch of salt
2 tbsp. olive oil
In a medium skillet, heat the butter, oil and garlic on medium heat, cooking for about 60 seconds until it becomes transparent.
Add the wine and bring to a boil. Boil for a couple of minutes until the wine has reduced to approximately half.
Add the whipping cream and cheese. Bring just to the boil and reduce to a simmer. Cook this for a couple of minutes, stirring constantly until it begins to thicken.
Remove from the heat and add the capers and lemon juice, add a pinch of salt and pepper. Keep covered.
Cook the pasta to al dente. Drain and add to the sauce, stirring to combine.
Season with a pinch of salt
Heat the oil in a large skillet on high just until hot but not smoking. Oil should not be smoking, just rolling around the skillet.
Add the scallops but do not over crowd.
Sear on one side for 4 minutes until they are a golden colour. Please do not move the scallops around in the beginning.
Turn the scallops to the other side and cook for just 2-3 more minutes.
Remove from the heat immediately and transfer the scallops to a plate immediately.
Add the cooked scallops to the spaghetti / sauce and reheat gently, just to warm up. Serve immediately.
If you insist, you can lick the plate. These are sooooo darn delicious.
I always have a package of these shells in the freezer and this is a wonderful way to use them and enjoy a great light lunch or dinner before going out for the evening.
1 cup chicken stock (homemade is best)
1 bay leaf
4 tbsp. butter
1 minced large shallot
1/2 – 3/4 cup chopped white mushrooms, trimmed and cleaned
1 tbsp. flour
2-3 tbsp. good white wine
2 cooked chicken breasts, skin removed
1/4 cup creme fraiche
1 tsp. mustard
salt and pepper to taste
1/4 cup chopped fresh parsley
6 Vol au Vent shells, baked as per instructions on package
In a saucepan, put in the stock and bay leaf and bring to the boil. Turn off the heat.
Melt the butter in a fry pan and cook the onions for a couple of minutes. Add the garlic and cook a further minute.
Add the mushrooms and cook until tender and golden in colour.
Sprinkle the flour  over and, stirring constantly, cook for a minute. Add the wine and continue cooking until it has all evaporated. Pour this into the stock and add the chicken breasts. Cook this for about 3-4 minutes, until thickened.
Stir in the remaining ingredients. Carefully spoon into the baked shells. If you wish, pour a glass of chilled white wine and Voila! a perfect meal.
Enjoy.
Having two members of the family who are here loving Cornbread and I am always looking and trying different recipes, here is one and I swear it is THE best Cornbread I have ever made. Kudos to the Spruce Eats.
1 cup sifted flour
1 cup yellow cornmeal
1 tbsp. baking powder
pinch of salt
2 eggs, well beaten
1 cup half and half cream
1/4 cup butter, melted and slightly cooled
1/2 cup sugar
1 cup frozen corn, thawed, drained and patted dry
Preheat oven to 400 degrees. In a bowl, whisk together the dry ingredients and set aside.
In a small bowl combine the half and half, beaten eggs, butter and sugar. Add the wet ingredients to the dry and mix only until moistened – no more than 15 seconds.
Fold in the corn but don't overmix this or the cornbread will be tough.
Pour into a well greased cake pan and bake for 25-30 minutes until a toothpick inserted in center comes out clean.
Serve with a bit of butter and light drizzle of honey. ODG!!!
Next time I am going to add some cheese in the batter and see how that comes out.
Here is another way to make something new…we are supposed to be learning something while at home, so this is delicious and you will probably make it again and again.
2 1/2 cups flour, plus 2 additional tbsp.
1 tsp salt
1/2 tsp. cayenne
1 cup lard
2-3 tbsp. ice water
2 tbsp. butter
1/2 cup minced onion
pinch of salt/pepper
4-5 cups white mushrooms, sliced
1 tsp. chopped garlic
2 cups heavy cream
3 large eggs
dash each of hot pepper sauce and Worchestershire sauce
1 cup grated cheddar cheese (white is preferred)
4 ounces Asiago cheese, shaved
2 cups pea shoots
white truffle oil, sprinkle only
In a mixing bowl combine the first three ingredients. Cut in the lard until it resenbles a coarse meal.
Add the ice water and mix until the dough comes away from the sides of the bowl. Cover and place in the refrigerator for 1 hour.
Preheat oven to 350 degrees. Remove the dough from the refrigerator and let sit for about 5 minutes. Roll out the dough on a floured board to a 12 inch round and 1//4 inch. Fold the dough into quarters and place it on a 10 inch tart pan. Roll a rolling pin over the entire surface to remove the excess dough. Prick the bottom all over with a fork.
In a medium suace pan melt the butter, add onions, salt and pepper and saute for about 1 minute. Add the mushrooms and saute for 4 minutes until they hahve wilted. Stir in the garlic and remove from the heat. Cool completely.
In a small bowl whisk together the cream annd eggs. Season with the hot pepper sauce, Worchestershire sauce and a pinch of salt and peppere. Mix well.
Pour the mushroom mixture into the pastry shell and sprinkle the cheese over. Bake until the center sets which should take about 55 minutes. Remove from the oven and cool for 5 minutes before slicing to serve.
In a bowl toss the pea shoots with the slightest drizzle of the truffle oil and garnish each slice with a pile of pea shoots.
YUM!
With all the isolating, world wide, this would be a good time to set the table with a clean tablecloth, napkins, steak knives and a glass of your favorite beverage to make this a special time.
You will need:
 New York Strip steaks, about 8 oz. each
olive oil
salt and pepper
Preheat  grill pan over high heat until just smoking. Brush the steaks with olive oil and season with salt and pepper. Grill 4-5 minutes on one side until golden. Turn them over and reduce the heat to medium and continue cooking for 5-6 minutes for a medium-rare doneness.
Wow Sauce
1 cup ketchup
1 tbsp. creamy horseradish
1 tbsp. honey
1 tbsp. maple syrup
1 tbsp. red pepper flakes
1 tbsp. Dijon mustard
Combine all these ingredient in a bowl , season with salt and pepper and set aside. When ready to serve, brush the steaks with this sauce and make sure you have little bowls for each person to use as they wish.
Make a beautiful, crisp green salad, add a twice baked potato and you have a very special meal.
I have to put this recipe out and tell my son-in-law it is for him. He is the only person we know who goes crazy for saskatoons. Victor, this is for you.
Brownie Batter
1 1/2 cups salted butter
3 cups sugar
1 1/2 cups cocoa powder
eggs, beaten
1 1/2 cups flour
To make the brownies, melt the butter in a saucepan over low heat until thoroughly blended.
Remove from the heat and stir in the sugar until well mixed. Add the cocoa powder, stirring until smooth.
Add the eggs and stir well. Now add the flour and stir just until combined. Do not over mix. Pour into a prepared 9 x 13 pan.
Cream Cheese Topping
2 pkgs. cream cheese, softened and cubed
1/2 cup sugar
1 egg
1/2 tsp. vanilla extract
In electric mixer, place all n ingredients in the bowl and beat until smooth.
Drop by generous spoonfuls on top of the brownie mixture, followed by the sauce (recipe following). Take a butter knife and swirl the cream cheese mixture and sauce together, creating a pretty marbled look.
Saskatoon Sauce
2 cups fresh or frozen saskatoon berries
1 cup cold water
1/2 cup sugar
3 tbsp. cornstarch
1 tbsp. lemon juice
In a saucepan place the berries an 3/4 cup of water and bring to a slow boil over a medium heat, cooking for 10 minutes. Stir occasionally so as not to burn the bottom the saucepan.
Whisk briskly the cornstarch with the remaining 1/4 cup of water and then rapidly whisk into the berries.
Stir in the lemon juice, cooking until it thickens. remove from he heat. This should be the consistency of a pie filling. If you must add a bit more cornstarch.e for 45-50 minutes until the topping begins to brown  at the edges. The center will still be a bit wobbly. Remove from the oven and let set and cool for about 5 hours.
Store any leftovers in a covered container in the refrigerator for 2-3 days or in the freezer for about 3 months.
*Note. this recipe was in the Look magazine so enjoy.