This is a very yummy dinner to serve your family and friends. For those eating a gluten free diet, this is one more to add to your list.
2 large Spaghetti squash
1 tbsp. olive oil
3/4 cup crisp cooked bacon bits
2 cloves minced garlic
1/2 cup sugar snap peas, cut in 1″ widths
1 large egg
6 tbsp. heavy cream (whipping cream)
1 cup Asiago cheese, grated
pinch of salt
Preheat oven to 375 degrees.
Cut the squash in half, lengthwise and remove all the seeds/fibers. Place on a parchment lined baking sheet, cut side down and bake for about 35-40 minutes. A fork should pierce the skin easily.
Heat the oil in a frying pan and saute the garlic and bacon bits for about 3 minutes.
Add the peas and cook for about 4 minutes until the colour turns a bright green. Remove from the heat.
Whisk together the cream, eggs and cheese in a bowl until well blended.
When the squash has cooked, pull the strands out with a fork to make your spaghetti. While still hot, stir in the cheese mixture and then the bacon/garlic mixture.
Garnish with more cheese if you can handle it and a sprig of fresh parsley.
We all have tried a zillion recipes for potatoes. I bet you haven't tried this one. Don did these up when we had Souvlakis (from Costco yet) the other night. OMG! These are so yummy, we made him go out and buy more potatoes to make more and then we will remember to take pictures. We ate them all the other night and then realized "oh oh did we take a picture?"
Remember the name: Lemon Greek Style Potatoes
4-5 potatoes, peeled and sliced in wedges
2 tsp. Oregano
pinch of salt and pepper
2 tbsp. olive oil
1 3/4 cups chicken stock
1 1/2 tbsp. fresh lemon juice
4 garlic cloves, minced
fresh chopped parsley for garnish
Preheat oven to 390 degrees.
In a large roasting pan, place the wedges in an even layer and drizzle the olive oil over them. Sprinkle with salt, pepper and oregano.
Combine the chicken stock, lemon juice and garlic and pour into the pan.
Cook, uncovered, in the oven for 50-60 minutes or until the stock has been absorbed and the potatoes are crisp and golden.
Halfway through the cooking time, gently stir them to ensure an even browning.
Okay, get ready to chow down. I mean it when I said we cooked the Souvlaki from Costco. Easy-peasy and so good. Don, of course, doctors them up a tad to make them really tasty and special. Glass of chilled wine, small side salad and you are going to be happy!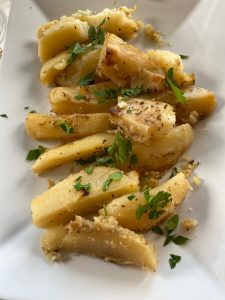 Last night we had cauliflower and Don made the best sauce to accompany it. Oh, my! I kid you not. We all but licked the bowl (okay, when they weren't looking, I did).
1 1/2 tbsp. butter
1 1/2 tbsp.  flour
3/4 cup milk
pinch of cayenne pepper
1 cup Balderson's white cheddar cheese, grated
1/3 tsp. grated nutmeg
In a saucepan on medium heat, melt the butter then whisk in the flour until dissolved and smooth.
Slowly whisk in the milk. Lower the heat and simmer for a couple of minutes to thicken. Stir in the nutmeg and cayenne pepper to incorporate.
Now stir in the cheese until melted and completely smooth.
Add to this the cooked cauliflower that has been broken into florets. YUP! It is that good.
The meaning of Hasselback is 'comb cut' and that is what we will do with the medium size spring beets. These are a delight to serve and anyone lucky enough to sit at your table will want to make these as well. Here we go.
12 small/medium red and yellow beets, scrubbed
1/4 cup coconut oil
pinch of salt and pepper
1/4 cup white wine vinegar
2 tbsp. honey, light colour
2 tbsp. fresh dill, chopped
1/3 cup extra virgin olive oil
Preheat oven to 375 degrees. Peel the beets and cut off the root and stem ends to create a flat surface to allow them to stay upright while roasting. Slice each beet crosswise to 1/8″ spacing and cut to within 1/4″ from the bottom.
Place flat side down in a glass baking dish and drizzle the oil, salt and pepper over each beet. Cover the dish tightly with foil and roast until easily pierced with a paring knife. This could take between 45-60 minutes depending on size of the beets and your oven. Remove the foil and continue in the oven for approximately 10 minutes to allow the liquid to evaporate.
In a small bowl, whisk together the honey, dill and olive oil, until completely blended. Drizzle over the beets before serving. Season with a touch of salt and pepper. Serve warm with your favourite meat or fowl and potatoes, rice or buttered noodles. This makes it your choice-your recipe.
Note:
Farmer's Markets are great venues to visit and buy really fresh garden produce. Just say'n.
A friend of mine, Susan Hunt, posted this recipe this morning and I had to beg (not really) for the use of this one. So Susan…thank you.
1 pkg. shredded potatoes (we use Golden Grill Hashbrown Potatoes – see note)
3 eggs, well beaten
1/2 cup shredded cheese
1/4 tsp. each of garlic powder and onion powder
pinch of salt and pepper
Preheat oven to 350 degrees and grease well a mini muffin  tin.
Make the potatoes as directed then put into a bowl adding all the ingredients, stirring to combine.
Spoon in equal portions in the pan and bake for 20-25 minutes until golden in colour and the edges begin to get crispy.
Eat warm with lots of bacon, eggs or any egg dish you desire and thoroughly enjoy.
*Note: We use these potatoes often for Sunday breakfasts. Just follow the directions and all will be fine.  Also, these are so darn tasty, you could, if your family let you, eat them all at the same time. I kid you not.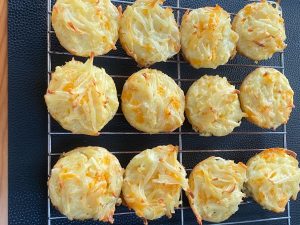 This is Don's latest wonderful dish that he made to go with the baked ham on the weekend.
You can't leave them alone and if anyone asks for leftovers, you can ask them what is a leftover?
1/4 cup butter, cubed
1/3 cup flour
3/4 tsp. salt
1/2 tsp. dry ground mustard
1/2 tsp. pepper
2 cups half and half cream
1 cup shredded Monterey Jack Cheese
1 cup shredded Edam cheese
6 cups thinly sliced Potatoes  (we had a mix of Yukon gold and Russet in the cupboard.)
1/2 finely chopped onion (on one side only**)
Preheat oven to 350 degrees. In a large saucepan, melt the butter and whisk in the flour, salt, mustard and pepper until well blended and smooth. Cook and stirring constantly gradually whisk in the cream and bring to a boil still stirring for about 2 minutes until thickened. Remove from heat. Add all the cheese in.
Layer the potatoes in a buttered baking dish and on one side only (* explanation follows) add the onion. Repeat the layers and pour the sauce over the entire surface.
Bake, covered for about 45-90 minutes depending on thickness of slices.. Uncover and bake for about 2-3 minutes so the top becomes lightly browned.
**The reason for the onion on one side only is I don't eat onions. Sometimes, obviously, they must be in the dish, but I guarantee you I will find them and remove them. Not for you of course.
This is a wonderful way to have your 'mashed potatoes' more on the light side and even Keto friendly. Give this a try and I know you will return to make it over and over again. Don made Coq Au Vin and this was the side dish. YUM!
1 large cauliflower head cut into florets
3 tbsp. butter
3-4 tbsp sour cream
4 garlic cloves, divided
1/4 cup Parmesan cheese (or Asiago)
salt and pepper to taste
In a steamer over a large pot of boiling water, add the cauliflower and steam for 12-15 minutes until tender. Drain and cover with a lid to keep hot while you take the next step.
In the same pot, melt the butter over a medium heat and saute the garlic until fragrant- this should just take a moment.
Blend the cauliflower and garlic in a food processor. If the bowl is not large enough, do this in a couple of batches. Have the setting on high and blend until smooth.
Put the cauliflower and garlic back in the pot and stir in the cheese, sour cream and season.
Everyone will love this, especially the children. Who knew?
I know, you are scratching your heads over this one. It is tasty and it is really different from the norm. To me it is a great way to disguise celery. Give it a go. It is really simple to make and takes no time to prepare.
4 cups celery pieces, string removed
1 can cream of celery soup (Campbell's is the best)
pinch of salt
1 cup pecan halves
buttered bread crumbs
Place celery in a greased baking casserole and add the soup, undiluted. Casually spread the soup around with a fork.
Sprinkle with salt and spread the pecan halves on top. Cover the surface with  buttered bread crumbs.
Bake in a 400 degree oven for approximately 20 minutes. This will serve 4-6 people as a side dish.
Here is another way to make something new…we are supposed to be learning something while at home, so this is delicious and you will probably make it again and again.
2 1/2 cups flour, plus 2 additional tbsp.
1 tsp salt
1/2 tsp. cayenne
1 cup lard
2-3 tbsp. ice water
2 tbsp. butter
1/2 cup minced onion
pinch of salt/pepper
4-5 cups white mushrooms, sliced
1 tsp. chopped garlic
2 cups heavy cream
3 large eggs
dash each of hot pepper sauce and Worchestershire sauce
1 cup grated cheddar cheese (white is preferred)
4 ounces Asiago cheese, shaved
2 cups pea shoots
white truffle oil, sprinkle only
In a mixing bowl combine the first three ingredients. Cut in the lard until it resenbles a coarse meal.
Add the ice water and mix until the dough comes away from the sides of the bowl. Cover and place in the refrigerator for 1 hour.
Preheat oven to 350 degrees. Remove the dough from the refrigerator and let sit for about 5 minutes. Roll out the dough on a floured board to a 12 inch round and 1//4 inch. Fold the dough into quarters and place it on a 10 inch tart pan. Roll a rolling pin over the entire surface to remove the excess dough. Prick the bottom all over with a fork.
In a medium suace pan melt the butter, add onions, salt and pepper and saute for about 1 minute. Add the mushrooms and saute for 4 minutes until they hahve wilted. Stir in the garlic and remove from the heat. Cool completely.
In a small bowl whisk together the cream annd eggs. Season with the hot pepper sauce, Worchestershire sauce and a pinch of salt and peppere. Mix well.
Pour the mushroom mixture into the pastry shell and sprinkle the cheese over. Bake until the center sets which should take about 55 minutes. Remove from the oven and cool for 5 minutes before slicing to serve.
In a bowl toss the pea shoots with the slightest drizzle of the truffle oil and garnish each slice with a pile of pea shoots.
YUM!
Here is a lovely recipe for making a super delicious dinner. Give it a try!
4 acorn squash, cut lengthwise and seeds removed
1/2 cup maple syrup
2 tbsp. olive oil
2 tbsp. butter
2 tbsp. chopped fresh sage
1 tbsp. grated fresh ginger
pinch of salt and pepper
Preheat oven to 425 degrees. Line a baking sheet with parchment paper and set out the acorn halves, flesh side up.
Mix together is a small fry pan the maple syrup, butter, oil, sage and ginger, cooking for about 2 minutes, stirring constantly. Pour into the acorn halves and bake in the oven for about 40-45 minutes (until tender).
During the roasting time, brush the edges of the squash with maple syrup. When done, spoon the stuffing into each half.
Stuffing
3 tbsp. butter
1 tbsp. olive oil
1 small onion, chopped
2 stalks celery, ribs removed and sliced
2 garlic cloves. minced
2 cups wild rice
4 cups chicken broth
1 cup dried apricots, chopped
1/2 cup golden raisins
mixed herbs to make 1/2 cup in total (parsley, thyme, maybe some sage)
2 Honey crisp apples, diced
1 tsp. brown sugar
pinch each of cinnamon and nutmeg
Preheat oven to 350 degrees. In a large oven proof pot, melt the butter and oil over medium heat and cook the onion, garlic and celery stirring often for about 5 minutes.
Stir in the rice, and cook for 1 minute. Add the broth, apricots, raisins and herbs, season with salt and pepper. Bring to a boil and cover and bake for about 1 hour, until the moisture is absorbed and the rice is tender. Cover and let stand for 5 minutes.
While this is sitting, melt the remaining butter in a small fry pan, adding the apples, cinnamon and nutmeg until slightly softened (about 4 minutes) and stir into the rice.
Now spoon this into the squash halves and serve immediately.
This is a real oldie but goodie. If you have not made these before, try it and it just might become a favourite.
12 large potatoes, cleaned, peeled and cut in thick rounds
1 large onion, grated
Bechamel Sauce – recipe follows
Butter a large oval casserole baking dish and set aside.
Drop the potatoes in a pot of boiling water and cook until tender and this should take about 5 minutes. Drain well.
Make up the sauce and assemble by making a single layer of rounds in the dish, sprinkle half of the onion over and with half the sauce. Repeat the layers and finish with the remaining sauce.
Bake in preheated oven of 375 degrees for 40 minutes until nicely browned. Settle for 10 minutes before serving.
Bechamel Sauce
3 tbsp. butter
2 tbsp. flour
2 1/4 cups half and half cream
1 small garlic clove, crushed
Melt butter in saucepan and add garlic, stirring for one minute.
Stir in the flour and cook for two minutes until completely blended and no lumps remaining.
Whisking quickly, slowly add the cream until it thickens and is smooth.
*Like with all sauces, strain for a totally silky smooth sauce.
This time of the year, gardens explode with bounty to use by either braising, steaming, frying, bbq-ing or simply eating raw straight from the earth.
This is using multi coloured carrots, left with some of the tops (for added colour) and topping with the lime butter.
3 lbs. baby carrots
1 tbsp. salt
1 tbsp. good olive oil
1/2 lb. butter, room temperature
2 tbsp. freshly squeezed lime juice
2 tbsp. grated lime rind
2 tsp. minced mint leaves
Scrub the carrots and trim the tops off leaving a 1 cm of the stem, still attached. Bring a large stockpot of water to the boil and add the oil and sat the carrots in, uncovered, and cook for about 6-7 minutes.
Cream the butter in the food processor with the lime zest, juice and minced mint leaves, beating until light and fluffy. This should take  no  more than 2 minutes on high speed.
When ready to serve, drain the carrots and  add a couple of tbsp. of the butter mix, tossing to coat. The remainder of the butter can be stored, covered, in the refrigerator for about 3 weeks.