Warmer weather is upon us and the mind wanders to salads. Try this one, it is really yummy.
1 tbsp. shallot, finely minced
3 tbsp. sherry vinegar
sea salt and ground pepper to taste
9 tbsp. olive oil, divided
1 -1 1 /2 lbs. white mushrooms, dusted clean and rough chop
2 tbsp. butter, divided
2 tsp. thyme leaves, divided
6-8 large handfuls of mixed green salad, washed, dried and chilled
1/2 cup finely chopped flat leaf parsley
1/4 lb. block Asiago cheese, shaved
1/2 cup toasted pecans, coarsely chopped
In a small bowl mix together the shallot, vinegar and a couple of pinches of salt and pepper to  make the vinaigrette. Let this sit for 10-15 minutes, then add 5 tbsp. of the olive oil and set aside.
Heat a large frypan over high heat until hot. Add 2 tbsp. of the olive oil and 1 tbsp. butter to the pan. When the butter begins to foam, add 1/2 the mushrooms. Season with 1 tsp. of the thyme and generous pinches of salt and pepper. Cook for about 4-5 minutes, stirring occasionally. If you have to, reduce the heat. The mushrooms should be tender and a little crispy. transfer these to a plate and repeat the procedure with the remaining  oil, butter, mushrooms and thyme.
When this is done, return the first batch of the mushrooms to the pan and stir to combine and heat through. Toss them and cook for about 1 1/2 minutes.
In a large bowl, add the greens and parsley. Spoon the hot mushrooms over this.
Return the pan to the stove and add 3/4 of the vinaigrette, scraping all the bits. When this is hot, pour over the entire salad and toss to coat the salad leaves and mushrooms. Salt and pepper to taste.
To serve, arrange the salad on a platter and, using a vegetable peeler, shave the Asiago cheese over the salad and top with the pecans. Enjoy!
This is sooooo good. Don made this last night and this morning, he wanted to know if we kept the left over sauce. What left-overs I asked. We ate the whole lot up. Try it and you will see. Awesome!
2-3  lbs. trout filets, sliced in 2″ wide pieces
Teriyaki Sauce
This is so good, you will wish it was bottled.
3 tbsp. teriyaki sauce
3 tbsp. hoisin sauce
3 tbsp. soy sauce
1 tbsp. vinegar
1 tbsp. sesame oil
1/3 cup packed light brown sugar
Spray a baking sheet. Cover with oil and spray for easier clean-up.
Preheat oven to 400 degrees. In a small saucepan combine all the sauce ingredients and whisk together until the brown sugar is dissolved.
Place the individual trout slices in a mixing bowl and pour half of the sauce over all the trout. Cover with plastic wrap and marinate 20-25 minutes at room temperature.
Transfer the trout to the prepared baking sheet, liberally brush the marinade on the trout slices  and bake for 10-12 minutes until the trout is flaky and cooked through. Your time for baking will depend on how thick your slices are.
While this is baking, bring the sauce in the saucepan to a boil and then reduce the heat and simmer until it becomes thicker (3-4 minutes) and remove from the heat.
Now brush the trout with the teriyaki syrup, (spoon it on really), plate with a medley of cooked rice, whole corn and peas, and heritage carrots. This was our choice tonight, and you can make it up as you wish.
Note: Don said to save the remaining sauce for another fish dish. We just laughed and said "oh for sure, tee hee". There was not a drop left.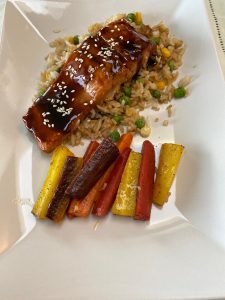 This is a simple but amazing appetizer to make and enjoy on your deck this summer. I use the brown and white button mushrooms (the really nice large size) but you can use whatever mushrooms you like. Try to avoid the tiny ones for fear you would over cook them.
1 lb. mushrooms
1/4 cup butter
1/2 tsp. lemon zest
2 tsp. freshly squeezed lemon juice
3 tbsp. olive oil
2 tbsp. finely minced shallot
1/2 tsp. minced garlic
pinch of salt
pinch of pepper
2 tbsp. fresh parsley, finely chopped
Artisanal bread, toasted
To begin, brush the mushrooms to remove any debris, remove the stems and cut each mushroom in as equal a size as you can and set aside.
In a large frypan, melt together the butter, lemon zest and juice. Stir in the mushrooms and toss them in the pan to coat. Cover and let cook for about 5 minutes. Remove the lid and add the olive oil. Increase the heat and cook for about 2 minutes.
Reduce the heat to low and cook, stirring occasionally, for about 15 minutes. Stir in the shallot, garlic salt and pepper and cook for about 4-5 minutes until they become tender and have softened.
Remove from the heat, add the salt and pepper. Toast your bread and sprinkle the mushrooms with the chopped parsley leaves. Enjoy!
It is truly a different way to serve mushrooms but is truly fantastic to consume.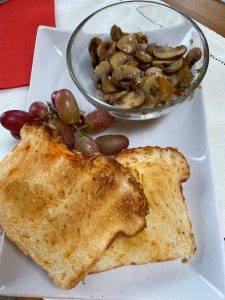 Don did it again. This roast is fabulous and will make your Sunday dinner really special. Great also for company.
3-4 lb.  Sirloin Tip roast
cracked salt and pepper to taste
2-3 tsp. each of thyme and rosemary
fresh parsley, chopped
2 tbsp. olive oil
1/2 large white onion
2 garlic cloves
Mix the herbs and spices and coat the roast. Place in a gallon zipper lock seal bag for a total of 4 hours prior to cooking.
One hour before serving, remove the meat from the refrigerator and let come to room temperature.
Heat a Dutch oven and add the olive oil. When the oil is shimmering and hot, add the beef, onion and garlic and sear the meat on all sides for about 2 minutes each side.
On a cookie sheet pan, set an oven proof rack in it. Heat your oven to 350 degrees and cook the meat for approximately 90-95 minutes. Test with a thermometer for an internal temperature of 140-145. (After removing it from the oven it will continue to cook, so if you remove it at a temperature of 135, it will be perfect when ready to serve.)
Tent the meat with tin foil and rest for 15 minutes. Test for an internal temperature of 140 – 145 degrees. Slice on an angle. If more liquid drips while cutting, just add to your gravy.
Any bits left in the Dutch oven should be discarded. It is only the burned herbs and will not be usable for gravy.
Serve with garlic mashed potatoes, vegetables of your choice. Add a lovely glass of Sangiovese wine and you have a wonderful finish to your day.
Last night Don made the greatest meal. It was so yummy! I am sharing it now because we were too busy enjoying it last night. Sorry!
3 tbsp. olive oil
3 chicken breasts, cut up
3 chicken thighs, cut in half
1/2 cup flour
pinch of salt
pinch of pepper
touch of paprika
2 tbsp. oil
1 medium onion, chopped
1 garlic clove, minced
1 small red pepper, chopped
2 cups long grain rice
3 cups (approximately) chicken stock
1 heaping tbsp. tomato paste
pinch of oregano
pinch of salt
1 can of Juanita's Foods Mole
Heat the oil in a large skillet and dredge the chicken pieces in the flour, salt, pepper and paprika. Dust the excess off and cook in the skillet to brown. Cook only enough on each side to brown. Remove with a slotted spoon and set aside.
Add the uncooked rice to the skillet and stir to coat with the oil.  Add more oil if necessary. Don't stir too hard or it won't brown. When starting to brown, gently stir so more of the rice will brown.
Add the onion and garlic, cooking for about 4-5 minutes so the onion softens.
Now place the chicken pieces on top of the rice. Add the stock, paste, salt and oregano and pour over the chicken.
Cover the skillet and reduce the heat to low. Cook for about 25-30 minutes, depending on the type of rice. Fluff the rice with a fork.
Heat the mole in a saucepan and after each portion set out, spoon the sauce over the top. This is so yummy.
If you feel so inclined, make a Mexican cocktail or pour a glass of wine and simply enjoy. thanks Don.
*Picture will follow when we serve some leftovers. As I said, it is YUMMY.
What a special treat for your Mother on her great day. It is simple, delicious and with a glass of her favourite wine will show her just how special she is and how lucky you are to have her with you.
Get ready!
16 oz. pizza dough, pre-made
5-6 roasted garlic cloves, mashed to a paste
1 shallot, sliced
1 cup goat cheese, crumbled
1/3 cup pecan pieces
1/2 cup cranberry sauce (whole)
3-4 thyme leaves
1 cup cooked baby shrimp (no shell or tails)
2 tbsp. olive oil
1 – 2 tbsp. honey
salt and pepper to taste
Preheat oven to 350 degrees and line a baking sheet with parchment paper. Set baking sheet aside.
On a floured surface, roll out the pizza dough to a 1/4 inch thickness. Transfer to the baking dish and bake for about 6-8 minutes. It should be cooked but not browned.
Spread the garlic cloves that have been mashed over the surface of the dough and then add the shallot slices, cheese and pecans evenly on top. Using a teaspoon, drop dollops of cranberry sauce over the surface. Bake now for about 10 minutes until it is golden brown and bubbling.
Sprinkle the surface with the honey, oil, thyme leaves and baby shrimp. Slice and serve immediately on a pretty plate, glass of wine and a smile.
We had this last night for dinner and the flavours are truly amazing. It is not difficult to prepare so give it a go at the earliest time.
1/4 cup minced onion
1/4 cup butter
1 1/2 lbs. peeled and deveined shrimp
1/2 lb. mushrooms, sliced
1 tbsp. flour
1 1/2 cups sour cream (not the light variety), room temperature
1 tsp. salt
white pepper, to taste
1 tbsp. butter
1/4-1/2 cup cream (if needed)
In a large frypan saute the onion in 1/4 cup butter until softened.
Add the shrimp and saute for 4-5 minutes until pink and just cooked. Transfer the mixture to a heated dish, and keep warm.
In the same skillet add 1 tbsp. butter and add the mushrooms. Saute over a medium high heat until browned. Sprinkle flour in and cook for another 2 minutes. Reduce the temperature and now stir in the shrimp mixture, sour cream, salt and pepper, stirring for another 2-3 minutes until the shrimp is heated through. Here is where you may need to add the cream, to ensure a smoother sauce. Just DO NOT BOIL.
Add some broad noodles or rice and spoon the mixture over (equally portioned, of course). Pass the crisp green salad and the evening is yours.
If you wish, enjoy a glass of chilled white wine as well. YUM!!!!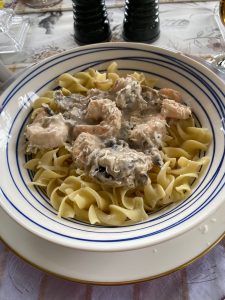 Everybody has a favourite recipe or food they state is "The Best". Well, recipe readers, this is one you absolutely MUST make and try. It IS, by far, THE best you will ever eat. Don made these for our appetizer for Easter. OMGoodness!
12 large, white mushrooms, stems and gills removed
24 medium size frozen shrimp, tails removed and cleaned
1/2 cup cream cheese, softened
1/2 tsp. Worcestershire sauce
pinch of garlic powder
1 dash hot sauce
1 cup Pepper Jack cheese, grated
Spray a 9 x 13 inch baking dish, set aside.
Fill a saucepan with water and simmer the mushroom caps over a medium heat for about 2 minutes until they begin to soften. Remove the mushrooms with a slotted spoon, drain and cool down, hollow side down, on paper towels for approximately 15-17 minutes.
While the mushrooms are cooling on the paper towel and the mushroom water is still simmering, gently cook the shrimp until just pink. Mix the cream cheese, garlic powder, hot sauce together and add the shrimp, blending well.
Spoon about 2-3 teaspoons of the mixture into each cap and place 2 shrimp per cap. Now place, stuffing side up in the baking dish, sprinkle with the Pepper Jack cheese over each cap. Cover and refrigerate overnight to blend the flavours and firm up the stuffing.
Preheat oven to 400 degrees. Uncover the dish and bake the mushrooms in the oven for about 15 minutes until the cheese has browned and is bubbling.
Now the secret….this would feed 3 (4 each) or 4 (3 each).  NAH! We took the 4 each and revelled each and every bite. Oh me, Oh my….never have I tasted anything this good in an appetizer.
It is so much fun to dine at the Paquette restaurant with Don at the helm. This is one delicious dish to serve. It made two meals for the three of us and, yes, licking the plate was a good show of appreciation. Uh, sorry Mom!
5 lbs. boneless beef short ribs, cut into 4 oz. portions
3/4 cup soy sauce
1/4 cup rice wine vinegar
3 garlic cloves, peeled and smashed
1 tbsp. peeled and minced fresh ginger
1/2 cup light brown sugar, packed
enough water to cover the ribs
1 small onion, chopped
3/4 tsp. crush red pepper flakes
1/4 cup fresh orange juice
1/4 cup oyster sauce
2 tbsp. fresh lemon juice
long grain rice, for serving
2 tsp. finely grated orange rind, for serving
Preheat oven to 350 degrees.
In a wide Dutch oven, combine the ribs, soy sauce, vinegar, garlic, ginger, brown sugar, water, onion, crushed red pepper and 2 tbsp. of the orange juice. The pan you are using must be deep enough to ensure the ribs are submersed in the water. Bake, covered in the oven, for 3 hours or until the meat separates easily.
Remove the ribs from the liquid and cover to keep warm. Drain the fat off the liquid and discard. Place the remaining liquid in a medium saucepan with 1/4 cup of the oyster sauce and bring to a boil over a medium heat until there is approximately 1 1/4 cups left. Strain this through a fine mesh strainer, making sure to discard any solids. Stir in the remaining orange juice and lemon juice.
Return the ribs and reduced sauce to the Dutch oven, coating the ribs with the sauce. Bake for about 10 minutes until all are heated through and are slightly glazed. Serve hot over the rice and season each portion with the orange zest.
Bring on a fresh, crisp salad and glass of lovely Sangiovese red wine. What could be better?
The meaning of Hasselback is 'comb cut' and that is what we will do with the medium size spring beets. These are a delight to serve and anyone lucky enough to sit at your table will want to make these as well. Here we go.
12 small/medium red and yellow beets, scrubbed
1/4 cup coconut oil
pinch of salt and pepper
1/4 cup white wine vinegar
2 tbsp. honey, light colour
2 tbsp. fresh dill, chopped
1/3 cup extra virgin olive oil
Preheat oven to 375 degrees. Peel the beets and cut off the root and stem ends to create a flat surface to allow them to stay upright while roasting. Slice each beet crosswise to 1/8″ spacing and cut to within 1/4″ from the bottom.
Place flat side down in a glass baking dish and drizzle the oil, salt and pepper over each beet. Cover the dish tightly with foil and roast until easily pierced with a paring knife. This could take between 45-60 minutes depending on size of the beets and your oven. Remove the foil and continue in the oven for approximately 10 minutes to allow the liquid to evaporate.
In a small bowl, whisk together the honey, dill and olive oil, until completely blended. Drizzle over the beets before serving. Season with a touch of salt and pepper. Serve warm with your favourite meat or fowl and potatoes, rice or buttered noodles. This makes it your choice-your recipe.
Note:
Farmer's Markets are great venues to visit and buy really fresh garden produce. Just say'n.
Don't let the name fool you. It is a super, duper meal to prepare and consume. Don made this last night and OMG! It blew us away. Give it a go. It is easy to make and much easier to consume. Add a crisp green salad and you are a genius.
3 king size chicken breasts, skin removed,  cut in 3, lengthwise each one
2 cups long grain rice (long grain is the only rice that works with this)
two cans condensed mushroom soup
2 cups water
1 cup chicken broth
1 tbsp. dry onion soup mix
1 1/2 cups shredded cheddar cheese
Preheat oven to 400 degrees.  Now mix together the rice, soup, water, broth and soup mix until there are no lumps.
Pour this into a buttered 9 x 13 baking dish.
Place the chicken pieces on top making sure to cover them so they don't burn with the rice mixture. Cover with foil and cook for 65 minutes until rice is tender and the chicken is cooked through.
Remove from the oven and sprinkle the cheese on top. Simply let the casserole contents melt the cheese before serving.
OMG! Salad? Yes, please. Oh, would you like a glass of white wine? Of course, thank you.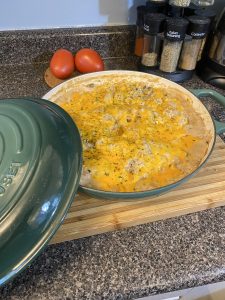 Don makes this almost as 'the one and only sauce' when baking ribs.
1 cup ketchup
1 cup Lillies Smoky BBQ Sauce, #22
1/4 cup packed brown sugar
1/4 cup Worcestershire sauce
1 tbsp. balsamic vinegar
1 tbsp. molasses
3 garlic cloves, minced
2 tbsp. onion powder
1 tsp. Joe's Stuff Cajun seasoning
1 tsp. ground mustard
pinch salt
pinch of pepper
2 tsp. dark cane jelly
Combine the above ingredients and blend really, really well.
Place 8 bone-in country style pork ribs weighing about 8 oz. each in your slow cooker and pour the sauce over all the meat to cover.
The ideal baking time on this is a preheated oven of 275 degrees for 3 hours. Depending on your slow cooker, you could bake 3 1/2 hours.
You will hear only means and groans of appreciation for this delight.
Serve either with garlic mashed potatoes or simply a green salad with warm dinner rolls and a glass of good quality wine like a Pinot Noir, Merlot or  Malbec. In a word and, of course, finger licking aside….ENJOY! You did it.