The meaning of Hasselback is 'comb cut' and that is what we will do with the medium size spring beets. These are a delight to serve and anyone lucky enough to sit at your table will want to make these as well. Here we go.
12 small/medium red and yellow beets, scrubbed
1/4 cup coconut oil
pinch of salt and pepper
1/4 cup white wine vinegar
2 tbsp. honey, light colour
2 tbsp. fresh dill, chopped
1/3 cup extra virgin olive oil
Preheat oven to 375 degrees. Peel the beets and cut off the root and stem ends to create a flat surface to allow them to stay upright while roasting. Slice each beet crosswise to 1/8″ spacing and cut to within 1/4″ from the bottom.
Place flat side down in a glass baking dish and drizzle the oil, salt and pepper over each beet. Cover the dish tightly with foil and roast until easily pierced with a paring knife. This could take between 45-60 minutes depending on size of the beets and your oven. Remove the foil and continue in the oven for approximately 10 minutes to allow the liquid to evaporate.
In a small bowl, whisk together the honey, dill and olive oil, until completely blended. Drizzle over the beets before serving. Season with a touch of salt and pepper. Serve warm with your favourite meat or fowl and potatoes, rice or buttered noodles. This makes it your choice-your recipe.
Note:
Farmer's Markets are great venues to visit and buy really fresh garden produce. Just say'n.
This site has several recipes for making Quiche. Well, friends, here is another one.  Don baked a beautiful ham and, of course, we had some leftovers. There is no crust to worry about and, if you really want to be a tad 'lazy', serve it with some frozen hash browns. Just sayin'.
2 tbsp. dry plain bread crumbs (can make your own)
1 tbsp. butter
1/2 cup chopped fine onions
1 1/4 cup of diced cooked ham
8 oz, shredded Swiss cheese
4 large eggs
1 cup whipping cream
1 cup whole milk
Preheat oven to 425 degrees.
Butter a quiche dish or pie plate and sprinkle in the bread crumbs all over to cover the pie plate.
Cook the onions in the butter until golden in colour. This should take about 5 minutes. Add the ham and cook only enough to warm it up. Spread this mixture on the bottom of the dish and sprinkle the cheese on top.
Whisk together the eggs, cream and milk and when well blended, carefully pour over the cheese. Set plate on a baking tray lined with parchment paper (in case it runneth over) and bake until the top is golden and set in the center. This could take 20 minutes.  Reduce to 375 degrees for a further 20 minutes. Test for doneness. Add 2 minutes if needed. Cool for about 5-6 minutes, before cutting in wedges.
If this is breakfast or brunch fare, serve with hash browns. If it is a main lunch serve with a beautiful green salad, warm buns and a glass of lovely white wine.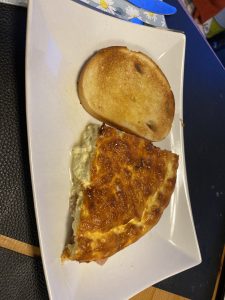 This is a great dish to eat. If you wish to be really special, make the Mediterranean Salad at the same time.
3 tbsp. extra virgin olive oil
1 tbsp. lemon juice
2 garlic cloves, minced
1 tbsp. chopped Rosemary leaves
4 boneless chicken breasts
1 zucchini, halved, thinly sliced
1/2 Japanese eggplant, sliced in thin rounds
1 medium Roma Tomato, halved and thinly sliced
1/2 cup crumbled Feta cheese
Place the chicken on a cutting board and make 5 crosswise slits in each breast. Be careful not to cut straight through. Transfer these to a baking sheet that has parchment paper on the bottom.
Drizzle the Rosemary mixture over the chicken, making sure it gets into the slits. Stuff each slit with a slice of zucchini, eggplant and tomato, Sprinkle Feta on top and bake in the 400 temperature oven for about 25 minutes (make sure chicken is cooked through.
Serve warm on top of the salad,  also have warm brioche buns and a glass of chilled white wine.
Now what could be better?
With the remaining pumpkin I made these and my granddaughter thought the mini 'pies' were the best. Add whipping cream and you have your very own pie.
30 tart shells (frozen ones work well)
2 large eggs
remaining canned pumpkin from muffin recipe
1/2 cup sugar
pinch of salt
1 tsp. cinnamon
1/2 tsp. nutmeg
1/4 tsp. ginger
1/4 tsp. cloves
1 1/4 cups evaporated milk
whipped cream for topping
Beat the eggs well with a whisk and then add all the remining ingredients until well blended. Place the shells on baking trays and fill each shell equally. It takes a touch less than 1/4 cup measure.
Bake for 25-28 minutes in a 375 degree oven until the crust turns a nice golden colour.
When cool (if you can really wait that long), add a generous splash of whipped cream and let the world go by. More tea?
Note: This is the best and most economical way to use up a can of pure pumpkin and have no waste – just joy.
Here is a great quiche. Serve this with warm muffins and freshly brewed coffee. What a wonderful way to start the day.
1 -9″ unbaked pie shell from frozen puff pastry
2 tsp. butter
12 slices of bacon, chopped
1 large red pepper, seeded and diced small
2 cups whipping cream (of course it is good for you)
4 large eggs
1/2 tsp. salt
pinch of cayenne pepper
1/2 tsp onion powder (no real onions, please)
1 cup grated Swiss cheese
Preheat oven to 425 degrees.
Saute bacon until crisp. Beat cream, eggs and spices until well mixed.
Sprinkle the pie shell with the drained bacon, red pepper and cheese.
Carefully pour the egg mixture on top. Bake in the oven for fifteen minutes, then reduce the temperature to 300 degrees and bake for approximately 40 minutes or until a knife inserted in the middle come out clean.
The flavour is really, really delicious and yes, men really do eat quiche.
Serve with fresh fruit and, of course, freshly brewed coffee.
Don made this back in 2007 for his niece and I decided to resurrect it once more. It is beyond delicious and I hope you will give it a try.
12-16 Manicotti shells, cooked 10 minutes
1/2-1 lb. frozen crabmeat, flaked (mock crabmeat is just as good here)
1/2 lb. wilted spinach
1/2 cup grated Parmesan cheese
1 large egg, beaten
1 tsp. salt
Parmesan cheese sauce (below)
1/2 cup grated Asiago cheese
Preheat oven to 400 degrees. Cook the manicotti shells as directed for 10 minutes. Set aside to cool.
Spray the bottom and sides of a 9 x 13 baking dish.
In a medium bowl, combine the crabmeat, spinach, cheeses, egg and salt. Mix well.
When the shells are cool enough to handle, stuff carefully with the crabmeat mixture and set in the baking dish. Cover completely with the Parmesan cheese sauce and sprinkle with the Asiago cheese.
Bake uncovered for about 25 minutes.
Parmesan Cheese Sauce
1/2 cup butter
1/2 cup flour
5 cups milk
2 cups freshly grated Parmesan cheese
1/2 tsp. salt
pinch of pepper
3-4 drops of Tabasco
In a saucepan make a roux with the melted butter and flour, stirring until bubbling. Slowly add the milk and stir until thickened.
Add the cheese, salt, pepper and tabasco sauce, stirring again, until the cheese melts.
Call the family to the table, add a green salad and enjoy. Oh and more wine please…..
I made this years ago and the longer it sits, the better it is, (I think).
9 lemons, peeled thinly, no white,
squeeze lemon juice into a bottle and place  in the refrigerator*
1 bottle vodka, plain – not flavoured
Okay, that is the hard part….Pour this into a container with a tight fitting lid and store in a cool, dark place for 20 days. Only the vodka and lemon skins.
Once a week, gentle move the peels in the container (do not open, just gently shake).
After the 20th day, boil 6 cups of water and add 3 1/2  cups white sugar. Stir this really well to dissolve the sugar. Strain the lemon solution and discard the peel. Add the lemon solution to the simple syrup and pour into clean and sanitized bottles. Make sure you have corks or similar tops.
This should be served really cold, in small glasses and sipped following a special dinner. In a word: YUM!!!!
*this way you will have freshly squeezed lemon juice for any recipe you may be making.
The days are finally in summer temperature mode and I thought this would help out for making a light supper to be enjoyed on the deck.
1/4 cup olive oil
3 tbsp. fig balsamic vinegar
1 tbsp. dried dill
1 minced garlic clove
pinch of pepper and crushed oregano
4 skinless, boneless chicken breasts
spring salad mix (about 7-8 cups)
1/3 cup seedless red grapes, halved
1/3 cup goat cheese, crumbled
1/4 cup toasted pistachios, chopped coarsely
Mix the first 6 ingredients in a jar with lid and shake well. Let stand for 1 -1  1/2 hours to allow them to mellow out.
Cook the chicken over the grill, uncovered for about 15 minutes, until tender and no longer pink. Cool slightly.
On 4 plates, arrange the salad greens, topping with the grapes, goat cheese and nuts. Slice each breast and arrange 1 per plate. Shake the dressing and drizzle over all.
Add a glass of your favourite chilled white wine and simply enjoy.
With the festive season fast approaching, here is a recipe to help with the Buffet. It is made with leftover turkey (this makes it a great Boxing Day or New Year's Eve treat) and rice.
1 cup rice
pinch of salt
3 cups water
2 1/2 cups cooked turkey, diced
3 cups white mushrooms, cleaned and sliced, sauted in 2 tbsp. butter
1/2 pint of whipping cream
1 1/2 cups of turkey stock OR chicken stock
1 tbsp. grated onion
2 tbsp. diced pimento
pinch each of salt and pepper
3-4 tbsp. grated Tex Mex cheese (or more)
1 tbsp. butter
Preheat oven to 350 degrees.
Cook the rice until tender. Drain the rice, if needed and put in a large bowl.
Toss in the turkey and mushrooms. Add the whipping cream and stock, onion, pimento and salt and pepper, Mix this up and put into a buttered  baking dish and bake for approx. 1 hour.
YUM!
As you can see from my site, this is another shortbread recipe you can make up. If you were to make them all up, you would have quite the selection and your guests will never want to leave.
1 cup softened, unsalted butter
3/4 sifted icing sugar (this way, no lumps)
1/2 tsp. vanilla
pinch of salt
2 cups flour, sifted
Preheat oven to 300 degrees. In electric mixer, whip together the butter, sugar, vanilla and salt until light and fluffy (about 5 minutes on a medium high speed). Stir in the flour until just combined.
Press dough into a 9 inch tart pan with removable bottom and use your hand to smooth the surface. With a sharp knife, score dough into 16 wedges. Prick surface with a fork several times and refrigerate for approximately half an hour.
Bake until firm and a pale golden colour. This should take 50-55 minutes. Remove from oven, cool for 5 minutes then cut through score lines. Leave in pan to completely cool.
Topping
1 cup sifted icing sugar
2 tbsp. lime juice
1 tbsp. lime zest
1/4 cup salted, shelled pistachios, toasted and chopped
In a small bowl, whisk together the icing sugar and juice with zest until smooth and no lumps. Picking up each slice of cookie, press into glaze to evenly coat and set on racks to dry, Sprinkle with the nuts and let set on racks for 60 minutes to completely dry.
You just may make this several times when entertaining.
If you lived in my home, you would be eating soup almost everyday for lunch…homemade soup only. Don loves his soup and, let me assure you, it is always awesome. Here is another one for you to try.
2 tbsp. butter
1 onion, chopped
1 garlic clove, minced
1 large carrot, peeled and chopped
1 large celery stalk, threads removed and chopped
1 small red pepper, seeds removed and chopped
2 tbsp. tomato paste
1 tbsp. lime juice
1/2 tsp. sugar
pinch of salt
pinch of cayenne pepper
3 cups low salt chicken broth
1-796ml can of diced tomatoes
4 slices white bread
2 slices cheddar cheese
Melt the butter in a fry pan over medium heat and add the onion and garlic. Cook until the onion is translucent but be careful not to burn the garlic.
Add the carrot, celery, pepper, tomato paste, lime juice, sugar, salt and cayenne. Cook, stirring until the vegetables are soft. This should take about 5 minutes.
Add the broth, diced tomatoes and bring to a boil. Reduce the heat to low and simmer for about 20 minutes. (until the vegetables are tender)
Puree in a couple of batches until very smooth and return to pan to keep warm while you make the croutons.
Croutons
Make these like a grilled cheese sandwich. Butter both sides of the bread and place in the fry pan. Top each slice with the cheese and add the second slice of bread. When golden on one side, flip over and cook until the cheese has melted and the bread has turn a golden colour.
Remove from heat and cut into 1/2 inch cubes. Pour your soup into warmed soup bowls and top with the croutons.
You still have the tomato soup and grilled cheese sandwich but on a smaller level. YUM!
What a wonderful new appetizer to serve family and company alike. It is so tasty and fresh. Serve with a colourful chilled salad, warm rolls and a chilled glass of your favourite brew.
1 potato peeled
1 can of canned salmon, drained, bones and skin removed
2 eggs, lightly beaten
2 tbsp. finely chopped pickle
1 cup panko crumbs
2 tbsp. vegetable oil
2 tbsp. freshly squeezed lime juice
zest from lime
pinch of pepper
Place the potato in a pot with water and boil until tender. Drain well and mash.
Add the salmon, stir in the eggs and pickle. Season with a pinch of pepper. Form into 6 equal patties. Roll in the panko crumbs to coat.
Heat a fry pan over medium heat, add 1 tbsp. oil and cook half of the salmon cakes. Cook until golden, a couple of minutes each side. Repeat with the remaining cakes. Serve warm with a salad, roll and beverage. Oh my Mama! This is so good.