I will start off by saying we forgot to take a picture because we ate this dish all up and then declared "hey, we didn't take a picture". Sorrrrry! It is delish.
1 lb. mushrooms
4 cloves garlic
5 sprigs of fresh thyme
4 – 6 oz. skin on Trout fillets
pinch of salt
pinch of pepper
2 tbsp. olive oil
2 tbsp. butter
Clean the mushrooms and cut in quarters. Mince the garlic cloves and strip the leaves off the thyme sprigs. With a paper towel pat the trout dry and sprinkle with the salt and pepper.
Heat the olive oil in a large non-stick skillet that has a cover until it starts to shimmer. Add the trout, skin side up, and sear until a golden colour (3 1/2-4 minutes).
Remove the fillets, skin side down, on a plate (we know it is not cooked through yet). Melt the butter in the skillet and add the mushrooms and sear, without touching, until the bottoms are well browned. Now add the garlic and thyme. Sprinkle with a touch of salt and pepper, cook stirring once or twice until the mushrooms are just tender (about 3 minutes).
Reduce the heat to a medium temperature and now return the trout skin-side down in the pan letting them nestle into the mushrooms. Cover and cook until the desired doneness (2 -5 minutes). Use a thermometer to see that it registers between 135 – 145 degrees for a medium rare cook. Longer if you want it more well done.
Serve with a crisp garden salad.
This is so yum!
Oh my goodness! You gotta love these treats.
This recipe is for 4 burgers, so if you have more mouths to feed, simply adjust the recipe.
4 x 6 oz. Trout fillets
1 tbsp. kosher salt
1 tbsp. brown sugar
1 cup teriyaki sauce (we use Edo of Japan's Teriyaki  sauce)
1/2 tsp. sesame oil
1/2 cup mayonnaise
2 tsp. grated ginger
1/2 pineapple, cored and cut in 1/2 inch slices
3 tbsp. vegetable oil, divided
1 tsp. sesame seeds, toasted
4 lettuce leaves
4 Brioche burger buns
Sprinkle the trout with the salt and sugar. Place on a plate and refrigerate for about 15-20 minutes. Remove from the refrigerator and rinse them completely. Pat dry with paper towels.
Heat the teriyaki sauce in a small saucepan over a medium heat until it is reduced by almost half.
Preheat the bbq to a medium temperature and grease the grills with 2 tbsp. of the oil. Rub the remaining 1 tbsp. oil on the pineapple and trout.
Grill the trout for 3-4 minutes each side until you have reached your level of doneness, brushing with the teriyaki sauce.
Grill the pineapple slices 3 minutes each side. Remove the trout and pineapple from the grill.
Heat the buns on the top rack of the bbq.
In a small bowl, mix the mayonnaise, sesame oil and ginger well.
To assemble these delightful treats, spread the mayonnaise on both insides of the bun, place a fillet on the bottom bun and drizzle with any remaining sauce and sprinkle with the sesame seeds. Top each one with a pineapple slice and lettuce leaf. Add the bun top and you are ready to dine. Make sure you have a few napkins handy and, of course, a glass of chilled beverage (your choice).
This is sooooo good. Don made this last night and this morning, he wanted to know if we kept the left over sauce. What left-overs I asked. We ate the whole lot up. Try it and you will see. Awesome!
2-3  lbs. trout filets, sliced in 2″ wide pieces
Teriyaki Sauce
This is so good, you will wish it was bottled.
3 tbsp. teriyaki sauce
3 tbsp. hoisin sauce
3 tbsp. soy sauce
1 tbsp. vinegar
1 tbsp. sesame oil
1/3 cup packed light brown sugar
Spray a baking sheet. Cover with oil and spray for easier clean-up.
Preheat oven to 400 degrees. In a small saucepan combine all the sauce ingredients and whisk together until the brown sugar is dissolved.
Place the individual trout slices in a mixing bowl and pour half of the sauce over all the trout. Cover with plastic wrap and marinate 20-25 minutes at room temperature.
Transfer the trout to the prepared baking sheet, liberally brush the marinade on the trout slices  and bake for 10-12 minutes until the trout is flaky and cooked through. Your time for baking will depend on how thick your slices are.
While this is baking, bring the sauce in the saucepan to a boil and then reduce the heat and simmer until it becomes thicker (3-4 minutes) and remove from the heat.
Now brush the trout with the teriyaki syrup, (spoon it on really), plate with a medley of cooked rice, whole corn and peas, and heritage carrots. This was our choice tonight, and you can make it up as you wish.
Note: Don said to save the remaining sauce for another fish dish. We just laughed and said "oh for sure, tee hee". There was not a drop left.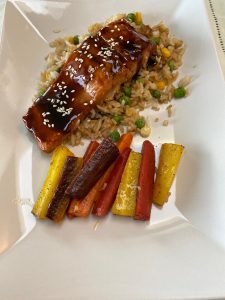 We had this last night for dinner and the flavours are truly amazing. It is not difficult to prepare so give it a go at the earliest time.
1/4 cup minced onion
1/4 cup butter
1 1/2 lbs. peeled and deveined shrimp
1/2 lb. mushrooms, sliced
1 tbsp. flour
1 1/2 cups sour cream (not the light variety), room temperature
1 tsp. salt
white pepper, to taste
1 tbsp. butter
1/4-1/2 cup cream (if needed)
In a large frypan saute the onion in 1/4 cup butter until softened.
Add the shrimp and saute for 4-5 minutes until pink and just cooked. Transfer the mixture to a heated dish, and keep warm.
In the same skillet add 1 tbsp. butter and add the mushrooms. Saute over a medium high heat until browned. Sprinkle flour in and cook for another 2 minutes. Reduce the temperature and now stir in the shrimp mixture, sour cream, salt and pepper, stirring for another 2-3 minutes until the shrimp is heated through. Here is where you may need to add the cream, to ensure a smoother sauce. Just DO NOT BOIL.
Add some broad noodles or rice and spoon the mixture over (equally portioned, of course). Pass the crisp green salad and the evening is yours.
If you wish, enjoy a glass of chilled white wine as well. YUM!!!!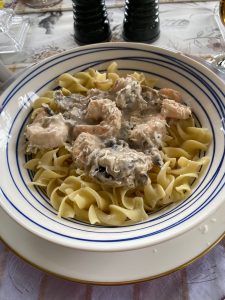 It is that time again (and in some parts of Canada all year long) to brush off the bbq and get ready. This will really awaken your taste buds and you will wonder why you haven't eaten this one more often. Well now you can.
3 tbsp. dark brown sugar
1 1/2 tsp. paprika
1/2 tsp. cayenne pepper
1/2 tsp. garlic powder
1/2 tsp. dried thyme
1/2 tsp. dried oregano
kosher salt and freshly ground pepper to taste
1 1/2 lbs. trout, skin removed, cut into large chunks
1/2 cup plus 2 tbsp. panko bread crumbs
1 1/2 tbsp. canola oil (if needed for frypan)
6 Brioche buns, toasted
2 ripe avocados, thinly sliced for garnish
1 1/2 cups mixed greens
To make the trout burgers, start by mixing the herbs together with the brown sugar, salt and pepper and set aside.
In a mixer with a steel blade attached, pulse the trout only until finely chopped.
Transfer to a bowl and mix in the panko crumbs and oil. Divide into 6 equal sized portions and shape into burgers. Season both sides with the seasoning mix and set aside.
As these burgers are on the fragile side, be REALLY careful on the grill or maybe place in a cast iron frypan that has the oil in it. Cook about 4 minutes each side, flipping only one time.
To assemble, make the herb spread first.
8 oz. room temperature cream cheese
1 tbsp. lemon juice
2 tbsp. chopped fresh dill
2 tbsp. finely chopped Italian parsley leaves
1 tbsp. finely chopped fresh basil leaves
Mix this all together until smooth. Now continue on by spreading the bottom of each toasted bun with this and add the burgers on top. Now, with the top bun set the avocado slices and some greens.  Put them together, serve with either French fries  or a fresh, chilled salad and, of course, a glass of chilled white wine.
It doesn't get any better than this, Enjoy!
I love trout and this is a really tasty dish to serve. It is so easy to put together you will probably mark this as a favourite of your household.
1 trout fillet about 1 1/2 – 2 lbs.
1 pound asparagus (the thinner stalks are best), remove the tips
1/4 cup creme fraiche
3 tbsp. finely chopped fresh dill
zest of one lemon
2 sheets puff pastry, room temperature
salt and pepper to taste
1 lightly beaten egg, for the glaze
Skin and bone the trout and set aside. Heat the oven to 450 degrees
Cut the ends off the asparagus and peel the stalks.
Stir together the creme fraiche*, dill and lemon zest, season with salt and pepper and set aside.
Lay out 1 sheet of puff pastry and roll it large enough to place the trout.
Brush the edges 1 1/2 inches of both sheets of pastry with the egg wash. Lay the out  the trout like inside a picture frame and place the asparagus on top of the trout (like pencils). Lay the top sheet of pastry over like a very large ravioli and press the edges together with the tines of a fork.
Make a couple of slits on the top to allow steam to escape and brush the entire pastry with the egg wash and bake for about 20 minutes, until it becomes puffed and golden in colour.
Remove from the oven and let stand for about 5 minutes before slicing to plate. This is also delicious at room temperature.
Did I say tasty? OMG! Is it ever.
*Note: To make creme fraiche use 1 cup whipping cream and 3 tbsp. sour cream. Stir together until well combined.
This is one of Don's recipes for the trusted barbeque. It is very, very tasty.
1 whole trout (on the larger size)
8 garlic cloves
pinch of salt
4 tbsp. fine herbs
2 tbsp. minced dried tomato
1 small tomato, minced
1 1/2 tsp. dill weed
1/4 cup good olive oil
Chop the garlic very fine and combine with the remaining ingredients and store in the refrigerator overnight.
When ready to use, oil the grill.
Cut the fish on the side so it can be stuffed but do not separate. do not cut the skin. Fill with 1/2 of the mixture. Place skin side down on the bbq at a low temperature for 12-15 minutes. Fill with the remainder of the mixture and bbq on medium until done (5-10 minutes).
Cut into fillets and serve with a lovely green salad, warm brioche buns and a chilled glass of the grape.
Wow! This is really tasty and you will enjoy it many times.
When the weather isn't exactly BBQ  time, then this is a wonderful way to cook whole salmon in the oven. Don did this yesterday, and we loved it.
1 4-8 lb. wild salmon, scaled and cleaned
2 tbsp. olive oil
pinch of kosher salt
pinch of ground pepper
1 mini orange, thinly sliced
6 sprigs of fresh dill
4 sprigs of fresh parsley
5 cloves of garlic, peeled
Preheat oven to 425 degrees. Line a baking sheet with parchment paper.
With paper towels, pat dry both the inside and outside of the fish.
Sprinkle both sides with salt and pepper.
Stuff the inside with the orange slices, ill, parsley and garlic and tie the fish closed with cooking twine.
Bake in the oven for about 20-25 minutes until an internal temperature has reached 130 degrees. Note: if fish is quite thick, it may be a few minutes longer.
Remove from the oven and turn the broiler on,, then place the fish back in the oven and broil for about 3 minutes. (just don't burn it). Remove from the oven, discard the garlic, herbs, etc.
Slice the fish, place on a serving plate and let everyone help themselves. (For your information, w served with asparagus and corn on the cob (cut in halves).
It was yummy and I really liked the light 'fishy' taste. This worked.
Last night Don made Fish and Chips and I have to be honest….they were THE best yet. So  we agreed no more ordering in. You might be surprised at one of the ingredients but, boy oh boy, it worked.
3 large russet potatoes
vegetable oil for deep frying
1 1/4 cups flour
 2 tsp. baking powder
kosher salt
1/4 tsp. cayenne pepper
1/2 bottle chilled n.a beer
1 1/2 lb. skinless cod fillets, cut into 4 fillets
Malt vinegar, lemon wedges for serving
Slice the potatoes lengthwise into 1/4 inch sticks. Add to the ice water as you work. Let sit for 30 minutes and lift out, rinsing well and patting really dry.
Preheat oven to 350 degrees. Heat about 4 inches of oil in a large frying pan until a thermometer reaches 280 degrees. Add half the potatoes and fry until just tender but no colour. Remove with a slotted spoon to a paper lined plate. Repeat with the remaining potatoes then turn the temperature up to 365 degrees.
Whisk together the dry ingredients, using only 3/4 cup of flour, with the beer until MOSTLY smooth. Let sit for about 5-6 minutes to thicken up.
Set a rack on a rimmed baking sheet. Season the fish with salt and  working in two batches, dredge the fish in the remaining 1/2 cup of flour, then dip into the beer batter, letting the excess fall off. Fry until crisp and golden brown (about 4 minutes). Transfer to the rack and place in the oven to stay warm.
Increase the temperature of the oil for 380 degrees. Working in two batches again. fry the potatoes until golden brown, about 2 minutes. Drain on a paper lined plate. Finish the second batch and then plate and serve.
OMG!!!!n So yummy.
Don made this for dinner one night last week and we are all still praising this dish. It is more than awesome and, trust me, you will love it.
White Wine Sauce
1 tbsp. butter

 1 tbsp.  olive oil

4 cloves minced garlic
1 cup white wine
1 cup whipping cream
1/4 cup Parmesan cheese, shredded
2 tbsp. capers, drained
1 tsp. freshly squeezed lemon juice
pinch of salt
8 oz. spaghetti
1 lb. medium sized scallops (about 16 and completely thawed, if frozen).
pinch of salt
2 tbsp. olive oil
In a medium skillet, heat the butter, oil and garlic on medium heat, cooking for about 60 seconds until it becomes transparent.
Add the wine and bring to a boil. Boil for a couple of minutes until the wine has reduced to approximately half.
Add the whipping cream and cheese. Bring just to the boil and reduce to a simmer. Cook this for a couple of minutes, stirring constantly until it begins to thicken.
Remove from the heat and add the capers and lemon juice, add a pinch of salt and pepper. Keep covered.
Cook the pasta to al dente. Drain and add to the sauce, stirring to combine.
Season with a pinch of salt
Heat the oil in a large skillet on high just until hot but not smoking. Oil should not be smoking, just rolling around the skillet.
Add the scallops but do not over crowd.
Sear on one side for 4 minutes until they are a golden colour. Please do not move the scallops around in the beginning.
Turn the scallops to the other side and cook for just 2-3 more minutes.
Remove from the heat immediately and transfer the scallops to a plate immediately.
Add the cooked scallops to the spaghetti / sauce and reheat gently, just to warm up. Serve immediately.
If you insist, you can lick the plate. These are sooooo darn delicious.
Recipe  #1777
Yum…..this is a super, duper recipe for trout and sooo easy to prepare, bake and, of course, eat.
1/2 cup pure maple syrup
1/4 cup mustard
1/2 cup good olive oil
1 tsp. vanilla
2 tsp. minced garlic
1 tbsp. fresh rosemary, minced
1 tsp. fresh thyme, minced
1 tsp. salt
1 tsp. sweet paprika
pinch pepper
4 trout portions
Combine everything into a large, sealable container and add the trout.  Toss to coat well. Seal and place in the refrigerator for about 4 hours.
Remove the trout from the marinade and discard the marinade.  Place in a baking dish and bake in a 425 degree oven for about 7-8 minutes or until done.
Serve with a fresh potato salad and crisp green salad or garlic mashed potatoes and fresh corn. Simply add a warm dinner roll and a glass of the chilled 'stuff' and you have a wonderful meal.
Enjoy.
While at Costco a week or so ago, I bought a bag of shelled pistachios as I was making a few desserts that required them, then I thought why not use the trout fillets we have on hand as well. We did and they were delicious.
6 trout fillets, skin removed, bones as well
3 tsp. Dijon mustard
1/2 cup coarsely ground pistachios (toasted)
green beans, steamed
white rice
lime wedges
Place the trout on a parchment lined baking sheet. Brush the mustard over the tops and sprinkle liberally with the nuts, pressing to make sure they adhere.
Preheat oven to 425 degrees and bake for about 13-14 minutes or until the fillets flake easily.
Place a fillet on each plate, add white rice, a lime wedge and, of course,  beautiful steamed green beans, sprinkled with some pistachios.
Serve with warm dinner rolls and a glass of chilled white wine. Yippee!