This recipe will serve 4 – 6 people
Ingredients:
3 lb. center cut pork loin, boned, rolled and tied*
4 tbsp. extra virgin olive oil, divided
1 tsp. kosher salt, divided
1/2 tsp black pepper
7-8 small carrots, peeled and left mostly whole
1 cup plus 2 tbsp. apple juice, divided
1 large white onion, peeled and cut in 8 sections
1 tsp dry Rosemary,
1/3 cup brown sugar, packed
1/3 tsp. garlic powder
1/8 cup  Dijon mustard
1 tbsp. apple cider vinegar
1 cup chicken stock
4 Russet potatoes, peeled and cut in bite sized pieces (3 lbs in total)
2 tbsp. butter
3 tbsp. all purpose flour
Preheat oven to 375 degrees.
Pat dry the pork with paper towels  and place on a platter. Coat with 3 tbsp. of the oil, 1/2 tsp. salt and 1/4 tsp pepper.
In a large, heavy bottomed roasting pan or Dutch oven, large enough to fit your roast, bring burner to medium high and once hot, add two tbsp of the oil . When simmering hot, add the pork, fat side down and sear and turn every two minutes for a total of 10 minutes This should sear the roast on all sides, including both ends.
Remove the roast from the pan to the platter. Add 1 cup of apple juice to deglaze the pan. After this has reduced by half and all the brown bits are scraped up from the bottom shut the burner off and add all the carrots, onions and Rosemary. Pour the chicken stock over the vegetables and set the roast on top of the vegetables.
In a small bowl mix together the brown sugar, garlic powder, Dijon mustard and 1 tbsp. apple cider vinegar, Using a pastry brush, brush this all over the seared roast.
Place the pan in the oven uncovered for 30 minutes. After 30 minutes, remove from the oven, and cover with tin foil until the roast has reached 140 degrees (about 45 min)., and the vegetables continue cooking. Our 3 lb. roast took 45 minutes ater the initial 30 minutes to reach 140 degrees.
Remove the roast to a platter. Pour off all the liquid into a saucepan.
Add the potatoes to the pan with the vegetables and add the remaining 1 tbsp. of oil, 1/2 , tsp of the salt and remaining pepper and toss. roast for 15-25 minutes until they are tender.  After 15 minutes, toss the vegetables and roast a further 15 – 20 minutes. While these are roasting, in a small saute  pan melt the butter over medium low heat and add the flour, cooking for about 4 minutes to make a smooth roux.
Heat 2 cups of the reserved liquid that collected from resting the meat, and once it starts to bubble, add all the roux and whisk to make the gravy Keep  temperature of the gravy on low, or reheat when ready to serve.
When the vegetables are cooked, uncover the roast and slice,  serving with the vegetables and gravy.
Your family (guests) will rave about this and you can think to yourself "Damn I did this".
Last week Don made the individual Beef Wellington (on site) and this is the Demi Glace that he made to go with it. In a word: YUM!
4 tbsp. butter
2 tbsp. flour
1/4 cup red wine
2 1/2 cups beef broth, separated
1 tbsp. Worchestershire sauce
pinch of salt and pepper (to taste)
1 bouillon cube (if necessary)
Form a roux with the butter and flour and cook out for 2 minutes, add the red wine and cook for another 3-4 minutes to cook out the alcohol.
Whisk in the 1/2 cup of broth and incorporate with the roux, whisking to avoid any lumps. Gradually add in the 1 1/2 cups of broth, again whisking constantly.
Note: Depending on the richness of the wine, you may wish to add part or all of the bouillon cube. or even the rest of the broth.
When my daughter was very young, and I was a single Mom on a limited wage, this was an alternative to meal I used from time to time. but it came in a box.
Don made his own version and it is yummy. You want to have an easy, quick meal to serve, go for it. It is very tasty.
1 tbsp. vegetable oil
1 lb. ground beef
1 small onion, diced
2 small garlic cloves, minced
2 1/2 tbsp. tomato paste
pinch of salt and pepper
1/4 tsp. oregano
1/4 tsp. thyme
1/2 tsp. paprika
1 1/2 cups milk
1 cup beef broth
2 cups elbow macaroni, uncooked
1 cup cheddar cheese, shredded
fresh parsley for garnish
Add the oil to a large skillet and heat to a sizzle. Add the ground beef and cook until browned and broken up. This will help in an even browning.
Add the onion and garlic and saute until tender for 2 minutes.
Now add the tomato paste and mix well to incorporate the ingredients and season with salt, pepper and paprika.
Add the milk, broth and macaroni. Stir this well and cover. When it has started to boil reduce the temperature and simmer for 9-10 minutes. The macaroni should be tender but not mushy. Stir this really well so it does not burn or stick to the pan.
Add the cheddar cheese and simply stir until the cheese has melted.
Sprinkle a light touch of chopped fresh parsley and serve.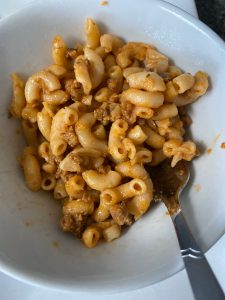 Don did it again. This roast is fabulous and will make your Sunday dinner really special. Great also for company.
3-4 lb.  Sirloin Tip roast
cracked salt and pepper to taste
2-3 tsp. each of thyme and rosemary
fresh parsley, chopped
2 tbsp. olive oil
1/2 large white onion
2 garlic cloves
Mix the herbs and spices and coat the roast. Place in a gallon zipper lock seal bag for a total of 4 hours prior to cooking.
One hour before serving, remove the meat from the refrigerator and let come to room temperature.
Heat a Dutch oven and add the olive oil. When the oil is shimmering and hot, add the beef, onion and garlic and sear the meat on all sides for about 2 minutes each side.
On a cookie sheet pan, set an oven proof rack in it. Heat your oven to 350 degrees and cook the meat for approximately 90-95 minutes. Test with a thermometer for an internal temperature of 140-145. (After removing it from the oven it will continue to cook, so if you remove it at a temperature of 135, it will be perfect when ready to serve.)
Tent the meat with tin foil and rest for 15 minutes. Test for an internal temperature of 140 – 145 degrees. Slice on an angle. If more liquid drips while cutting, just add to your gravy.
Any bits left in the Dutch oven should be discarded. It is only the burned herbs and will not be usable for gravy.
Serve with garlic mashed potatoes, vegetables of your choice. Add a lovely glass of Sangiovese wine and you have a wonderful finish to your day.
It is so much fun to dine at the Paquette restaurant with Don at the helm. This is one delicious dish to serve. It made two meals for the three of us and, yes, licking the plate was a good show of appreciation. Uh, sorry Mom!
5 lbs. boneless beef short ribs, cut into 4 oz. portions
3/4 cup soy sauce
1/4 cup rice wine vinegar
3 garlic cloves, peeled and smashed
1 tbsp. peeled and minced fresh ginger
1/2 cup light brown sugar, packed
enough water to cover the ribs
1 small onion, chopped
3/4 tsp. crush red pepper flakes
1/4 cup fresh orange juice
1/4 cup oyster sauce
2 tbsp. fresh lemon juice
long grain rice, for serving
2 tsp. finely grated orange rind, for serving
Preheat oven to 350 degrees.
In a wide Dutch oven, combine the ribs, soy sauce, vinegar, garlic, ginger, brown sugar, water, onion, crushed red pepper and 2 tbsp. of the orange juice. The pan you are using must be deep enough to ensure the ribs are submersed in the water. Bake, covered in the oven, for 3 hours or until the meat separates easily.
Remove the ribs from the liquid and cover to keep warm. Drain the fat off the liquid and discard. Place the remaining liquid in a medium saucepan with 1/4 cup of the oyster sauce and bring to a boil over a medium heat until there is approximately 1 1/4 cups left. Strain this through a fine mesh strainer, making sure to discard any solids. Stir in the remaining orange juice and lemon juice.
Return the ribs and reduced sauce to the Dutch oven, coating the ribs with the sauce. Bake for about 10 minutes until all are heated through and are slightly glazed. Serve hot over the rice and season each portion with the orange zest.
Bring on a fresh, crisp salad and glass of lovely Sangiovese red wine. What could be better?
Don makes this almost as 'the one and only sauce' when baking ribs.
1 cup ketchup
1 cup Lillies Smoky BBQ Sauce, #22
1/4 cup packed brown sugar
1/4 cup Worcestershire sauce
1 tbsp. balsamic vinegar
1 tbsp. molasses
3 garlic cloves, minced
2 tbsp. onion powder
1 tsp. Joe's Stuff Cajun seasoning
1 tsp. ground mustard
pinch salt
pinch of pepper
2 tsp. dark cane jelly
Combine the above ingredients and blend really, really well.
Place 8 bone-in country style pork ribs weighing about 8 oz. each in your slow cooker and pour the sauce over all the meat to cover.
The ideal baking time on this is a preheated oven of 275 degrees for 3 hours. Depending on your slow cooker, you could bake 3 1/2 hours.
You will hear only means and groans of appreciation for this delight.
Serve either with garlic mashed potatoes or simply a green salad with warm dinner rolls and a glass of good quality wine like a Pinot Noir, Merlot or  Malbec. In a word and, of course, finger licking aside….ENJOY! You did it.
At a family reunion a couple of years ago, I had Porchetta for the first time. OMG! Take the time and go for it. Here again, you can proclaim "damn I did this".
1 tbsp. chopped Rosemary leaves
2 garlic cloves, minced
pinch of pepper
1 tsp. crushed fennel seeds
1 tsp. red pepper flakes
2 tsp. kosher salt, plus extra for seasoning
3 lb. boneless pork belly
1 tbsp. grapeseed oil
1 cup dry white wine
In a small bowl, mix together the first 6 items and set aside.
On a cutting board, place pork skin-side down and score a criss-cross pattern with a sharp knife, inserting only to about 1/2 inch deep. Rub the meat all over with the spice mixture. Roll this up, skin side out and tie with twine in a pattern to keep in shape. Place on a plate and wrap with plastic wrap putting in the refrigerator over night.
Remove the meat from the refrigerator and bring to  room temperature for a minimum of one hour.  Preheat your oven to 400 degrees.
Place the meat on a rack set into a roasting pan and rub all over with the oil. Season lightly with kosher salt and roast for about 30 minutes. Reduce the temperature to 350 and bake a further 2 hours.
At the end of the 2 hour bake, increase the oven temperature to 425 degrees and bake a further 30 minutes to crisp up the skin. Remove from the oven and allow to rest 30 minutes.
Cranberry Pear Relish
Make this up while the meat is cooking.
6 oz. fresh cranberries
1 large pear, diced to get 3/4 cup
1/2 cup sugar
1/2 cup water
pinch of kosher salt
1/3 cup chopped toasted pecans
Add everything up to the pecans in a saucepan and cook for about 18-20 minutes until the cranberries have burst and the sauce has thickened.
Pour into a sealed container and set in the refrigerator for about 2 hours. Just before serving, add the pecans.
Making the Sandwich
8 Ciabatta rolls, cut in half lengthwise
Mayonnaise
chopped iceberg lettuce
To assemble, butter the buns and spread some mayonnaise on one side and on the other, spread some relish. Top with the pork belly and crispy skin, add some lettuce and put together. Now for the hard part: ENJOY!!!
This is delicious and really easy to make. Give it a try.
1 tbsp. good olive oil
1/2 cup chopped onion
2 cloves garlic, minced
pinch of salt
1/4 tsp. dried basil
1/4 tsp. dried oregano
1/4 tsp. fennel
pinch of pepper
8 whole large Roma tomatoes
1 – 15 oz. can of tomato sauce
1 cup water
1/2 tsp. sugar
1/2 tsp. red wine vinegar
In a heavy pot, heat the oil over medium heat and add the onion, garlic, salt, spices and cook until soft. This should take approximately 5 minutes.
Place the tomatoes in a large bowl and squeeze to break into small pieces. Add the tomato sauce, water and sugar in the pot and stir well. Bring to a simmer over medium high heat.
Reduce the temperature to low and simmer, uncovered, for 45 minutes. Stir occasionally with a wooden spoon.
When looking through our large binder of recipes I came across this one. I can even read Don's handwriting so that makes you the lucky one. They are really delicious and since the long cold winter is subsiding, it is just a way to start getting prepared to barbecue.
2 cloves garlic, grated
Couple sprigs of Rosemary leaves
1 sprig of fresh thyme
Zest of 1 lemon
juice of 1/2 lemon
Dijon mustard for coating the ribs
season with sea salt and ground pepper
Cut the ribs into 2 rib portions and rub with Dijon mustard to coat.
Mix the dry ingredients and garlic together and sprinkle over the ribs to cover both sides.
Grill chops 2 minutes per side.
Using a 450 degree oven, place the ribs on a parchment lined baking sheet and bake for 20 minutes for rare and 25 minutes for medium rare.
Serve with a lovely Malbec wine, potatoes, asparagus. Having a small dish of Greek yogurt at each place setting would also be nice to dip the meat into.
I cannot begin to put into words just how wonderful this recipe is. Don made it last night and all I can say is WOW! The topping is beyond belief and if you will take a tip from me, you will double it and use it also like a gravy, It is that good.
2 lbs. lean ground beef
1 1/4 cup dried bread crumbs (he made his own)
1 small diced yellow onion
3/4 cup milk
2 large eggs, beaten
4 tbsp. ketchup1 tbsp.
1 tsp. Worcestershire sauce
2 tsp. dried parsley leaves
1 1/2 tsp. salt
1 tsp. garlic powder
1/2 tsp. black pepper
Topping
1/2 cup ketchup
4 tbsp. packed light brown sugar
2 tbsp. red wine vinegar
Preheat oven to 350 degrees.
In a large bowl add the beef, bread crumbs, onion, milk, eggs, 4 tbsp. ketchup, Worcestershire sauce, parsley, salt, garlic powder and pepper. Use your hands to mix this together until all are well combined.
Add the meat mixture to a loaf pan and pat down to an even layer.
Note: Don found if you dampen parchment paper a little, it becomes more pliable. Line the loaf pan with it and then add your meat.
In a small bowl, make the topping, stirring to combine. Pour evenly over the top of the meat, spreading to cover the surface.
Bake uncovered for 55 minutes and rest for about 10 minutes before serving or it will fall apart.
This is a moist meatloaf and you will say apologies to your Moms for their recipe and make this one again and again.
*Note: You must mix the meat really well. If not, it will become too soft.
We served ours with the no yolk noodles. Tonight, we are going to slice some more and put into hot dog type buns and do some French Fries,
This recipe will make from 12-20 slices, depending how thick you cut it.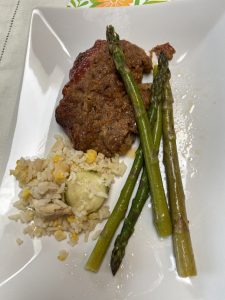 This is the 1,829 recipe on my site. Enjoy!
This recipe is great when having company and the meal is more on the casual theme.
This recipe will serve 6, but you can easily double the ingredients to serve 12.
1 tbsp. vegetable oil
1 onion, peeled and chopped
1 carrot, peeled and chopped
5-6 white mushrooms, sliced
1 1/2 lb. ground beef
1 cup beef broth
1 tbsp. tomato paste
1 tsp. chopped fresh rosemary
1 tbsp. Italian parsley
1 cup frozen peas
1 can whole kernal corn (Green Giant is best)
2 lbs. Russet potatoes, peeled and cut into chunks
6 tbsp. butter (or more if needed)
1/3 cup butter
1 /4 cup cream cheese
1/4 cup whipping cream
Preheat oven to 375 degrees. In a large pan, heat the oil and add the onion, carrot, and meat. Cook until browned which would take about 10 minutes.
Drain the fat, add the broth tomato paste and herbs, simmering until the juice begins to thicken and then add the peas and corn.
Pour this into a 1 1/2 quart baking dish and set aside.
Cook the potatoes until done. Drain the water and put the potatoes through a ricer, then add the butter, cream cheese and cream. You only need to mix this with a spatula, it is soooo creamy and delicious.
Pile the potatoes over the meat mixture and bake for about 35 minutes until the potatoes are a golden colour around the edges.
There are nights in our house that are really special and this was one of them. Don had some ground pork left over from making his Christmas Tourtiere and put this together. You are going to love it. We got 10 meals out of it. OMGGGGG! This is so tasty, you will be glad of a second portion.
2 lbs. ground pork
2 large carrots, peeled and finely diced
3 cloves crushed garlic
2 – 28 oz. cans of whole tomatoes (Kirkland (Costco) brand San Marzano) tomatoes
2 cups freshly sliced white mushrooms
1/2 tsp. freshly ground nutmeg
1/4 tsp. red pepper flakes
1 tbsp. salt
2 tbsp. dried oregano
1 tbsp. dried basil
1 tbsp. butter
1/4 cup heavy cream
1/2 cup 2% milk
1 cup red wine (we used Sangiovese)
parmesan cheese, grated, enough for topping
1 lb. your favorite dried pasta noodles
In a Dutch Oven pot cook the pork until no longer pink and add the carrots, garlic and mushrooms, cooking until carrots tender. This is approximately 10 minutes.
Skim the fat off the top of the meat mixture and add the tomatoes, spices and wine, stirring occasionally and breaking up the tomatoes a little.
Add the butter, cream and milk, stirring well to incorporate.
Cook your pasta noodles according to the directions, drain,  saving 1/2 cup of the water. Add the saved water back into the noodles and prepare to serve.
When ready to serve, place a portion of the noodles on the plate, add a generous serving of Bolognese sauce, topping it all off with a sprinkling of grated Parmesan cheese.
If you wish, serve with a chilled green salad and your favorite dressing.
Pour yourself a glass of the lovely red wine and declare "damn I did this".