I have, over the past gazillion years, done a lot of baking. This one is a cheater though, so bear with me on this. (I don't always cheat). It is one of the tastier cakes with the special topping and I know you will make it….over and over again.
1 Betty Crocker lemon cake mix
1 pkg. pistachio instant pudding
approximately 1/3 cup sour cream
1/2 cup milk
1/2 cup coffee cream (50/50)
1/2 cup Crisco oil
3 eggs
Beat this together in your electric mixer until completely smooth. Let sit for a couple of minutes. Pour this into a well oiled 8″x 11″ cake pan and place in a 350 degree oven for 45-50 minutes. Check for doneness with a cake tester. Then remove from oven and let completely cool down.
Topping
3/4 cup mascarpone cheese, softened to room temperature
3/4 cup powdered sugar
1 tbsp, whipping cream
1 lemon, grated for zest
pinch of salt
1/2-1 cup chopped toasted pistachios
Combine all the ingredients in a bowl until smooth, being careful not to over mix as this will curdle the icing, and ice the cake. Sprinkle the cake with the pistachios.
Serve right away or cover and place in the fridge. I put toothpicks in the 4 corners and covered with plastic wrap. It is such a darned tasty and moist cake to serve your family, company or for a celebration. We did this for Don's Father's Day dinner at Kelly's.
Yup! Now say "damn I can do this".
These are so easy to make but your family/company will think it took you forever to make (as if you really did). They are fabulous and so tasty.
1/4 cup butter
1/2 cup sugar
6  yellow Delicious apples, peeled, cored cut into cubes (3/4 ")
1/3 cup whipping cream
1 tsp. pure vanilla extract
1 tsp. lemon juice
pinch of salt
1 lb. frozen puff pastry, thawed
1 egg, beaten well
1/2 tsp. cinnamon
3 tbsp. sugar
In a large frypan, melt the butter and sprinkle 1/4 cup of the sugar, stirring to combine and soften (about 2 minutes).
Add the apples, tossing to coat with the butter mixture and increase the heat to a medium high. Flip them over occasionally so the apples can release their juices and become very tender and caramelized. Now add the remaining 1/4 cup of sugar and toss quickly to cover the apples and let the sauce thicken. (approximately 2-3 minutes)
Remove from the heat, gently stir in the lemon juice, vanilla and salt. Set aside and cool to room temperature.
Preheat oven to 425 degrees and line a large cookie sheet with parchment paper.
Roll out the pastry on a clean lightly floured surface to about 24 inches. Using a very sharp knife cut the dough into 8 equal squares. Brush the edges of the pastry with some of the egg mixture, saving the rest.
Add 2 very generous tsp. of the apples in the center of each square and fold the dough in half, and be sure to crimp the edges with a fork. Now brush the tops with the remaining egg and transfer to the baking sheet.
In a small bowl mix together the 3 tbsp. sugar and cinnamon. Cut 2 small slits in the top of each square and sprinkle the cinnamon sugar mix over all.
Bake until golden in colour and crispy. This should take about 20-25 minutes. Remove from the oven and let cool down a bit before serving. Add a dollop of whipping cream to each one or, if you prefer, vanilla ice cream (Chapman's of course).
Eat on the day you bake them so you can see just how great they really are.
When I was growing up, I would walk past a bakery where, in the display window, they had chocolate cake iced with this marshmallow icing and then poured a chocolate ganache over that and let it set. It was so yummy. You have the cake now so why not take it to the next level?
1 cup sugar
1/3 cup water
2 egg whites, stiffly beaten
1/3 tsp. cream of tartar
1 1/2 tsp. clear vanilla (if you have it on hand) or regular will do
Boil and sugar and water and slowly add the egg whites. While still warm, add the cream of tartar and vanilla. Beat this until completely cool in your food processor.
Ice your cake and, if you wish, add the ganache.
OMG! Everyone will want this one for their birthday…every year,
Mother's Day is fast approaching and this dessert might give you brownie points for the next year. In a simple word Y U M !!!!!
1/2 cup plus 1 tbsp. sugar, split
1 large orange, zest and juice, separated
1/4 water
2 1/2 cups pistachio nuts, crushed
1/2 tbsp. cinnamon
pinch of salt
1/2 cup butter, more if you need it
1 tbsp. honey
10 thawed phyllo sheets
1/2 cup dark chocolate chips
1 tbsp. whipping cream
Preheat oven to 350 degrees and line a baking sheet with parchment paper. Set aside.
In a small saucepan over a medium heat, put in the 1/2 cup sugar, orange juice and water. When the sugar has completely dissolved, remove from the heat and set aside.
In your food processor combine the pistachio nuts, cinnamon, remaining 1 tbsp. sugar, salt and orange zest. Pulse on high until it resembles a fine sand. Reserve 1/2 cup of this mixture and set aside.
In a small heatproof bowl, microwave the butter and honey on high for 20 seconds or until melted.
On a clean, dry surface, lay out a sheet of phyllo. Brush the entire surface with the butter mixture. Lay a second sheet on top and repeat the procedure. Roughly divide the pistachio mixture into 5 portions.
With the long side of the pastry parallel to you, spoon out a portion of the mixture along the edge to form a 1 inch line. Now, gently and carefully roll this up to form a log. Repeat this step with the remaining 4 portions.
Place the Baklava on the baking sheet and place them snugly together. The space at the end won't matter. Brush the tops with the remaining butter mixture and bake in the oven for about 17-20 minutes. When they are a golden brown and crisp, remove from the oven and pour the syrup immediately over the rolls. Let cool for approximately 1 hour.
One more step to go. In a heatproof bowl combine the chips and whipping cream. Microwave in 15 second intervals until melted. Stir each time.
Now to serve: cut between the baklava to separate and then cut each log in 3 pieces. Dip each end in the chocolate and then in the nut mixture. Return to the baking sheet to allow the chocolate to set (about 10-15 minutes).
Place on a pretty plate and serve. They will never forget this one and you can say "damn, I did this".
The berries and plums are appearing in the grocery stores now and this is an oldy but goodie. Daughter Suzanne loves this one and so do we.
1 1/4 cups flour
1 1/2 tsp. baking powder
pinch of salt
3 tbsp. butter
1/4 cup brown sugar
1/3 cup butter
1 cup sugar
1 egg
1 tsp. vanilla extract
3/4 cup whole milk
4 black plums, pitted and thinly sliced
3/4 cup blueberries, washed and drained.
Preheat over to 350 degrees. Grease a 9 inch cake pan. Combine the flour, baking powder and salt and set aside.
In the greased pan, combine 3 tbsp. butter and brown sugar and set in the oven until the butter has melted and begins to bubble. Set aside.
In a large electric mixer, cream together the butter and white sugar until really light and fluffy. Beat in the egg and stir in the vanilla. Add the flour mixture, alternatively with the milk just until incorporated.
Arrange the plum slices around the edges of the cake pan. In the centre of the pan add the blueberries. Carefully add the cake batter, covering the fruit completely being sure not to dislodge any. Bake in the oven for 40 minutes or until a toothpick inserted in the center comes out clean. Allow to cool at least 15 minutes before serving with a generous dollop of freshly whipped cream.
Oh yeah it is yummy.
Here is a nice cake to serve when special guests will be at your table (yes, this means family as well). Get ready to tickle your taste buds.
7 tbsp. butter, room temperature
2/3 cup plus 1 tbsp. sugar, divided
2 eggs, room temperature
2/3 cup full fat sour cream
2 tbsp. milk
1 tsp. vanilla extract
1 tsp. almond extract
1 cup cake flour
1/2 cup almond flour
1 tsp. baking soda
1 tbsp. baking powder
1/4 cup candied ginger, diced
1 tbsp. lemon juice
1 tbsp. Baileys liqueur (or water)
1 1/2 cups dried cranberries
2/3 cup icing sugar
1/2 cup toasted sliced almonds
Preheat oven to 350 degrees. Butter a 9 inch springform pan and place a parchment paper disc on bottom.
In your mixer, cream together the butter and 2/3 cup sugar on high until light and really fluffy (about 3-4 minutes). Now add the eggs, sour cream, milk, vanilla and almond extracts. Mix for a full 60 seconds to blend and set aside.
In a separate bowl mix together the flours, baking soda and baking powder. Add this carefully to the egg mixture and combine. Add the ginger and 1 cup cranberries and blend.
Pour this batter into the pan and bake for 40-45 minutes, until tested in the center and it comes out clean. Set on a rack and cool completely. In a bowl, mix together the 1 tbsp. sugar and remaining berries to coat.
In a small bowl, mix the lemon juice, liqueur and icing sugar into a thick glaze and drizzle over the cake surface. Sprinkle the candied berries on top.
Slice and present to your guests….the ones with the eyes popping at the sight of your dessert. Yup! you made it…damn!
Okay ladies, here we go with a new favourite bar. It is really yummy and so easy to put together. Let's do it!
2 cups flour
1/2 cup sugar
3/4 cup butter, room temperature
4 eggs, room temperature
1 cup sugar
1 cup corn syrup
3 tbsp. butter, melted
1 1/4 cups pecans, roughly chopped
3/4 cup dried cranberries, roughly chopped
Combine the flour, sugar and butter until crumbly for the crust. Press into a 9″ x 13″ baking dish that has been sprayed with Pam. Bake in a 350 degree pre-heated oven for about 16 minutes (light golden in colour). Set on a rack to cool.
Beat the eggs, corn syrup, sugar and melted butter together until really well blended. Now stir in the pecans and cranberries. Evenly pour this over the crust and return to the oven to bake for approximately 38 minutes longer (or until set and golden in colour).
Cool completely on a rack before slicing.
I kid you not. This came about as I had leftover whipping cream and didn't know exactly what I wanted to do with it. I googled around, found this one, and I don't remember exactly which one it was, but thank you.
I have been baking for many, many years and I can honestly say this has to be one of the best ones I have made. It is beyond belief. The texture, colour, taste is beyond it. Try it, if you haven't already and you will see what I mean.
3 cups sugar
1 cup butter
6 large eggs
3 cups sifted flour
1 cup whipping cream
1 tbsp. good vanilla
In your electric mixer, put in the sugar and butter all at once and beat on a medium speed for about 2 minutes to get it light and fluffy.
Add the eggs, ONE AT A TIME. It will make a huge difference if you just dump them in. Don't be tempted please.
Carefully add the flour and whipping cream alternately, starting with flour and ending with flour. The texture is so different even now. Beat for about 2-3  minutes to ensure it is completely smooth. Add the vanilla and mix until incorporated.
This batter is really dense but do not despair.
Generously spray with Pam or like product your Bundt pan. Spoon in the batter making sure to level out the top. Place in a 325 degree oven and bake for 1 hour and 25-28 minutes. Do not be concerned about the browning colour.
Remove from the oven and do not touch for 1/2 – 1 hour. You may have to tap it to remove from the pan and place on a pretty plate.
When you first try it, you will think you can hear him sing. The proper title of this cake is: Elvis Presley's Whipped Cream Pound Cake.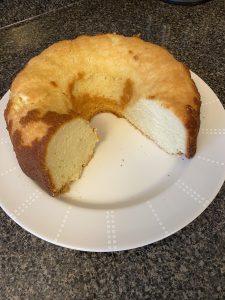 This is a super recipe both for chocolate lovers and company. Take a read and you will see.
1 stick of butter (1/2 cup), more for the molds
flour for dusting the molds
2- 2 1/2  tsp. flour
4 ounces bittersweet chocolate
1/4 cup Nanaimo Bar Liqueur (Forty Creek)
2 whole large eggs
2 large egg yolks
1/8 cup sugar
Butter really well 4-4 oz. ramekins or custard cups, dust with flour and repeat both the butter and flour. Tap to remove excess flour. Set aside.
Place the butter, chocolate and liqueur in a heat proof bowl set over a pot of simmering water and heat until the chocolate has melted stirring with a spatula to keep it silky smooth.
In your electric mixer beat together the eggs, yolks and sugar until light and very thick.
Add the melted chocolate mixture, beating to combine and quickly beat in the flour until just combined and divide evenly in the dishes.
Heat the oven to 450 degrees. Place the molds on a baking sheet and bake until the sides have set but the centers are still soft. This should take about 7-8 minutes.
Invert each mold onto a plate and let sit for 10 seconds. Unmold by lifting one corner of the mold and the cake should fall out onto the plate. Be sure to serve immediately with a generous dollop of whipped cream and a little drizzle of the liqueur.
Serve with a fresh, hot cup of coffee or……
Believe me, you will think you hear the angels singing.
These are very pretty to look at and simply delicious to consume. Your company will probably suggest that you open your own restaurant.
3 cups Pomegranate juice
4 tbsp. white sugar
1 cup white wine (your choice)
1 cinnamon stick
8 Bosc pears, peeled but stems kept intact
Place the juice, sugar and cinnamon stick in a large saucepan, bringing to a simmer over medium heat. Simmer until the sugar has dissolved.
Peel the pears. Place the pears in the saucepan and cover. You will cook these for approximately 17-18 minutes, turning occasionally and they are tender.
Once done, remove the saucepan from the stove and let cool to room temperature. Turn the pears a few times to retain an even colour.
To serve, place a pear in your prettiest small bowls, spoon some of the sauce over and add a generous dollop of whipped cream. YUM!
This is a really great cookie – easy to make, no baking involved and much, much easier to eat. Well, after all it is the Christmas Season, right?
1 – 4 oz. cream cheese
2 tbsp. milk
2 cups sifted icing sugar
2 tbsp. unsweetened chocolate baking liquid
1/2 tsp. vanilla
3 cups mini marshmallows
coconut for dipping
Beat cream cheese and milk until completely smooth. Beat in the sugar until smooth. Add the chocolate liquid and vanilla and mix really well.
Add the marshmallows until all have been coated with the chocolate. Drop by tsp. into the coconut, tossing until completely coated. Chill until firm.
These should be stored covered in the refrigerator. These make approximately 4 dozen cookies.
Okay, so I am a little silly sometimes, but being as I am of Irish heritage, I thought this would be a nice dessert to have…anytime you want it.
It is far too easy but it is delicious and besides, you still can proclaim "Damn I did this" just because you did.
1 pkg. Jello Pistachio instant pudding
1 large white cake mix
4-5 drops of green food colouring
4 eggs
1 cup water
1/3 cup salad oil
Now for the hard part: Place all the ingredients into your mixing bowl and beat of a medium speed for about 2-3 minutes.
Grease and flour your favourite 10 inch tube pan and gently pour the batter in, levelling off for a nice finish.
Bake in a 350 oven for about 55-60 minutes. Check the center of the cake for doneness and let cool on a rack for 20 minutes. Remove from the pan. If you wish to be really fancy, use a buttercream icing and sprinkle with a little green sanding sugar.
*Note: you can change the cake mix and pudding to Chocolate, Cherry, Lemon – whatever you feel like. It will be tasty for sure.