Anyone who knows me or has followed me over the years, knows at this time of year, I do up trays for give away.  Don makes his Tourtiere pies and sausage rolls and I do the baking on Nov 11. We also pause at 11 a.m. in respect for our freedom then keep going.
This is the list this year. When done, pictures will appear.
Christmas Gumdrop cake
Whipped Shortbread
Pecan Shortbread
Butter Tarts
Citrus Cocada
Citrus Lace Cookies
Raspberry Meringues
Pralines
Spiced Nuts
Nuts and Bolts
Belem Tarts
New Christmas Cake
Lemon Shortbread
Mincemeat Tarts
WHEW!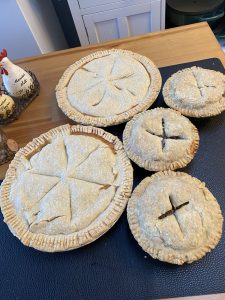 Our dear neighbour brought us a cake like this, only using a different nut, and it was gorgeous. Well, here is our version. Give it a try, you may love it like we do. Just sayin'
1 cup flour
1 tsp. baking powder
1/2 tsp. baking soda
1 tsp. ground cinnamon
1/4 tsp. nutmeg
pinch of salt
1/3 cup butter, room temperature
3/4 cup brown sugar, packed
1 tsp. pure vanilla extract
2 tbsp. half and half cream
2 large eggs
2 – 2 1/2 cups Granny Smith apples, peeled and cut in 1/2 inch cubes,
1/2 – 3/4 cup coarsely chopped pecans
Pam spray
Preheat oven to 350 degrees. Place  the first 6 items in a bowl and gently whisk to combine.
In your electric mixer, add the butter, sugar and vanilla and beat for about 3 minutes so to make it light and fluffy (more if needed). Now lightly beat the eggs together adding to the mixer, along with the cream. Mix this really well.
Add the apples and pecans to the flour mix to coat them well and then add this to the wet mixture and mix only until the batter is thick.
Spray a 9 inch springform pan with oil spray. Spoon the batter into the pan, spreading with a spoon to even it all out. Bake in the middle of your oven for 30-35 minutes until it springs back when GENTLY touched in the very centre of the cake.
Set an on a rack to completely cool and run a knife around the outer edge of the cake ring and remove.
Cover the cake until you are ready to serve this to all the drooling mouths at the table.
Salted Caramel Sauce
1 cup sugar
1/4 cup water
1/2 cup whipping cream, divided
2 tbsp. room temperature butter
1 tsp. pure vanilla extract
3/4 tsp. kosher or coarse salt only. Do not use regular table salt.
Put the sugar and water in a medium pot. It will look almost too thick, but will thin out as it cooks. Do not stir this until it becomes golden in colour. This should take about 12-13 minutes.
Remove from the heat and very, very slowly whisk in 1/4 cup of the whipping cream. If you add this too quickly, it will bubble over. Now whisk in the remining cream until all is absorbed then whisk in the butter and vanilla. Now whisk in the salt.
Serve this warm over the cake, adding whipped cream or Chapman's vanilla ice cream on the side.
Store any remaining sauce (haha) in a jar in the refrigerator and when wanting to use it again, simply warm it up.
I can't explain to you the unbelievable flavour of this cake. We have company coming and I wanted to add this type of cake to a dessert I am also making.
It is super easy to make but WOW!
4 large eggs
1 cup butter, room temperature
1 cup sugar
1 1/2 cup flour
1/2 cup sour cream (not the light kind)
2 tsp. lemon flavour (or almond)
1/2 tsp. baking powder
Preheat oven to 350 degrees. Butter and flour a 9 x 5 inch baking loaf pan.
In a medium bowl, whisk together the flour and baking powder and just set aside.
In your electric mixer, cream the butter and sugar together until really light and fluffy. Scrape the bowl down and then add the eggs, one at a time, making sure to incorporate well.
Add the sour cream and flavouring. Mix until well combined and again, scrape the bowl down.
Add the flour mixture and mix well together, scraping down a few times. Use your spatula to transfer to your baking dish. Carefully smooth the top down.
Bake for about 40-55 minutes (depending on your oven).  Should have a light, golden colour. Test with a skewer.
When done, transfer to a rack to cool down completely. Cover with wrap before the family dives in and eats it all. Will keep in the fridge for a few days.
Bring to room temperature to slice and serve.
That sauce….Don could bottle it and become very rich. Kelly feels bartenders would also go crazy as in something like an Old Fashioned. Take out the simple syrup and use this sauce. OMG!!! Anyway, I digress. here we go.
1 bottle of a Riesling white wine
1 cup water
3/4 cup sugar
1 whole vanilla bean, split and scraped
4 firm Bosc pears, peeled but leaving the stem intact
1 cinnamon stick
1 star anise
1/4 tsp. anise
Place the wine, water, sugar and vanilla bean with seed pulp, cinnamon stick, and anise in a 4 qt. saucepan and bring to a boil.
Core the pears from the bottom. Reduce the heat to medium low and set the pears in the liquid, cover and cook for about 30 minutes or until the pears are tender but not breaking apart. Maintain a very gentle simmer. Remove the pears to a serving dish, standing upright and place in  the fridge.
Remove the vanilla bean, bring the heat back to high and reduce the syrup to about 1 cup. This should take 20-25 minutes. Do not let the syrup turn brown. Place in a heatproof dish and place in the fridge for about 1 hour to cool.
Remove the pears from the fridge and spoon the sauce over them.
NOTE: This sauce was used on waffles, pancakes and anything else Kelly could find.
These are a little different and you can change the sesame seeds to flax seeds if you want to up the taste as well.
2/3 cup flour
1/4 tsp baking powder
1 large egg
1 tsp vanilla
1/2 cup butter
1 cup packed brown sugar
1 1/4 cup toasted sesame seeds
Combine the flour and baking powder. Cream the butter, sugar, egg and vanilla together. Mix with the dry ingredients until incorporated.
Stir in the sesame seeds and drop by teaspoonfuls, leaving room for them to spread out on a parchment lined baking sheet.
Bake in a 350 degree oven for 7-8 minutes until golden and cool on the baking sheet. Then remove to a rack to completely cool.
These are delicious, crispy and you will me making them often.
With berries coming into season now, this would be a super dessert to make. If you sample it first, you better make a second one immediately then you won't feel guilty because the first one disappeared. I know this calls for jam but it still feels like the real deal.
2 cups flour, sifted
3/4 cups dark brown sugar
3/4 cups finely chopped almonds
3/4 cups butter
2 pkgs. softened cream cheese
2/3 cup sugar
2 large eggs
1/2 tsp. almond extract
 1 cup berry jam (your choice)
3/4 cups sliced almonds
To make the crust, combine all the ingredients up to and including the butter. Reserve 3/4 cup for the topping.
Press the remainder into a 13 x 9 inch cake pan sprayed with a nonstick spray. Bake at 350 degrees for 14-15 minutes or until the edges are golden.
For the filling cream the cheese, sugar, extract and eggs until smooth. Spread this evenly over a hot crust. Bake a further 15 minutes. Stir the jam until smooth and spread over the filling. Stir the sliced almonds into the remainder crumble mixture and sprinkle this over the jam. Bake another 15 minutes. Cool completely on a rack for about 3 hours before cutting. Store in the refrigerator.
I have to put this recipe out and tell my son-in-law it is for him. He is the only person we know who goes crazy for saskatoons. Victor, this is for you.
Brownie Batter
1 1/2 cups salted butter
3 cups sugar
1 1/2 cups cocoa powder
eggs, beaten
1 1/2 cups flour
To make the brownies, melt the butter in a saucepan over low heat until thoroughly blended.
Remove from the heat and stir in the sugar until well mixed. Add the cocoa powder, stirring until smooth.
Add the eggs and stir well. Now add the flour and stir just until combined. Do not over mix. Pour into a prepared 9 x 13 pan.
Cream Cheese Topping
2 pkgs. cream cheese, softened and cubed
1/2 cup sugar
1 egg
1/2 tsp. vanilla extract
In electric mixer, place all n ingredients in the bowl and beat until smooth.
Drop by generous spoonfuls on top of the brownie mixture, followed by the sauce (recipe following). Take a butter knife and swirl the cream cheese mixture and sauce together, creating a pretty marbled look.
Saskatoon Sauce
2 cups fresh or frozen saskatoon berries
1 cup cold water
1/2 cup sugar
3 tbsp. cornstarch
1 tbsp. lemon juice
In a saucepan place the berries an 3/4 cup of water and bring to a slow boil over a medium heat, cooking for 10 minutes. Stir occasionally so as not to burn the bottom the saucepan.
Whisk briskly the cornstarch with the remaining 1/4 cup of water and then rapidly whisk into the berries.
Stir in the lemon juice, cooking until it thickens. remove from he heat. This should be the consistency of a pie filling. If you must add a bit more cornstarch.e for 45-50 minutes until the topping begins to brown  at the edges. The center will still be a bit wobbly. Remove from the oven and let set and cool for about 5 hours.
Store any leftovers in a covered container in the refrigerator for 2-3 days or in the freezer for about 3 months.
*Note. this recipe was in the Look magazine so enjoy.
These remind me of an old-fashioned cookie my Mom would make. By the way, they are absolutely delicious. Make them and you will agree you should have doubled the recipe.
2 1/2 cups sifted flour
1 tsp. baking soda
1 tsp. baking powder
1 tsp. cinnamon
1/2 tsp. ground nutmeg
pinch of salt
1 cup sugar
1/2 cup pure cane syrup
1 stick butter (1/2 cup), room temperature
1 generous cup pure pumpkin, not pumpkin pie kind
1 large egg
1 tsp.vanilla
Preheat oven and line 2 baking trays with parchment paper.
Combine all the dry ingredients in a bowl and set aside. Beat the butter, sugar and cane syrup until light a fluffy ( about 2 minutes). Slowly add the flour mixture until well blended. Add the egg (lightly beaten) to the pumpkin and mix well, making sure to incorporate the batter..
Drop by rounded tbsp. (or use  a scoop) to the prepared trays and bake for 15-18 minutes. Remove to trays to cool down.
Take a container of fluffy whipped icing and scoop out a good 2-3 tbsp. Add a small amount of half and half cream, mixing well to make a runny drizzle. Dip a fork into the glaze and drizzle over each cookie.
It has been a while since I posted a good cookie and thought this one would fill the bill.
1 cup butter, room temperature
1 cup dark brown sugar
1/2 cup sugar
1 large egg
1 egg yolk
1 1/2 tsp. vanilla
1 3/4 cups flour
1 tsp. cinnamon
3/4 tsp. baking soda
pinch of salt
2 cups rolled oats
1 1/2 cups pecans, chopped
Preheat oven to 350 degrees. Line 2 baking sheets with parchment paper and set aside.
In a large bowl, beat the butter, vanilla and both sugars until fluffy. This will take 2 full minutes.
In a separate bowl whisk together all the dry ingredients and slowly add to the butter mixture, beating only to combine well.
Stir in the oats and pecans.
In your hand, scoop out 2 tbsp. of the dough, roll into a ball and set on prepared baking sheet. Continue until all the dough is used.
Bake in the oven, one pan at a time, for about 13-15 minutes. Cool on rack for 2 minutes  and then transfer cookies to racks for cool completely.
Make sure you have a pot of coffee (or tea) at the ready 'cuz you won't want to share with anyone. HA!
Always looking for new and wonderful things to try, here is one you will probably really like to try….again and again.
1/2 cup butter, room temperature
3/4 cup sugar
2 large eggs
2 tsp. vanilla
2 1/4 cups flour
1 tsp. baking powder
1/2 tsp. baking soda
pinch of salt
2/3 cup buttermilk
Preheat oven to 325 degrees. Line a 9″ x 5″ loaf pan with parchment paper. Set aside.
In a large bowl, beat the butter with the sugar until light and fluffy. Beat in the eggs, 1 at a time, beating to incorporate each one well. Beat in the vanilla.
Whisk together in a large bowl the dry ingredients and alternating with the buttermilk, add the egg mixture. Set aside while you prepare the streusel.
Streusel Topping
3/4 cup brown sugar
2/3 cup flour
1/2 tsp. cinnamon
1/2 cup cold butter, cut into chunks
In a small bowl, stir together the sugar, cinnamon and flour and, with a pastry blender, cut in the butter until it looks like a bowl of large crumbs.
Now scoop one half of the cake batter into the prepared pan and smooth out, Add a layer of the streusel and then top with the remaining batter. Sprinkle the remaining streusel on top and bake in the oven for about 60-65 minutes. Test to make sure a tester comes out clean.
Cool, in the pan, for about 5 minutes before turning it out on a rack to cool completely.
The streusel running through the center of this loaf is what really makes it so perfect.
I love this…my Grandmother made it for years and I know she always made the best. Must be as I have never forgotten it. Give this a go…
1 1/3 cups half and half cream
1/2 cup dark brown sugar
1 tbsp. butter
1 tsp. good vanilla
2 eggs, beaten well
1 tsp. lemon juice
1/2 cup golden raisins
2 cups cooked rice
cinnamon to taste
Preheat oven to 325 degrees. Grease a 2 quart baking dish (with cover). Set aside.
Combine the cream, sugar, butter, vanilla, eggs, lemon juice and raisins. Mix really well and add to the rice. Sprinkle cinnamon over the top.
Pour into prepared baking dish and cover.
Bake for 50-55 minutes, until this is set.
Serve with a dollop of whipping cream and roll your eyes, YUP! This is the best.
As you can see from my site, this is another shortbread recipe you can make up. If you were to make them all up, you would have quite the selection and your guests will never want to leave.
1 cup softened, unsalted butter
3/4 sifted icing sugar (this way, no lumps)
1/2 tsp. vanilla
pinch of salt
2 cups flour, sifted
Preheat oven to 300 degrees. In electric mixer, whip together the butter, sugar, vanilla and salt until light and fluffy (about 5 minutes on a medium high speed). Stir in the flour until just combined.
Press dough into a 9 inch tart pan with removable bottom and use your hand to smooth the surface. With a sharp knife, score dough into 16 wedges. Prick surface with a fork several times and refrigerate for approximately half an hour.
Bake until firm and a pale golden colour. This should take 50-55 minutes. Remove from oven, cool for 5 minutes then cut through score lines. Leave in pan to completely cool.
Topping
1 cup sifted icing sugar
2 tbsp. lime juice
1 tbsp. lime zest
1/4 cup salted, shelled pistachios, toasted and chopped
In a small bowl, whisk together the icing sugar and juice with zest until smooth and no lumps. Picking up each slice of cookie, press into glaze to evenly coat and set on racks to dry, Sprinkle with the nuts and let set on racks for 60 minutes to completely dry.
You just may make this several times when entertaining.