Don wanted to make a shrimp salad tonight for dinner but Kelly and I changed it to a Po' Boy. It was soooo delicious. Try it and I know you will love it as well. Beats a heavy dinner and could also make a super lunch.
2 lbs. peeled and deveined shrimp
kosher salt and freshly ground pepper to taste
2 tbsp. freshly squeezed lime juice
1 cup finely diced celery
2 thinly sliced scallions
2 tbsp. freshly minced tarragon leaves
2/3 cup Hellman's mayonnaise
4-6 Brioche buns, warmed in the oven
In a large saucepan add 7 cups of water and turn the heat to medium. Cook the shrimp for about 8-9 minutes, stirring them gently occasionally until they turn pink and are firm to the touch. Drain off the water.
Cut the shrimp in half in the middle and place in a bowl to cool down. Tamp with a paper towel to remove any excess water.
When cool, add the lime juice, generous pinch of salt and half that of pepper. Add the celery, scallions, tarragon and mayonnaise mixing well to combine then place in the refrigerator for about an hour.
Place the brioche buns in the oven to get warm (not toasted), and butter each side. Fill each bun with as much shrimp as the bun could possibly hold. Cut the sandwich in half, set on a pretty plate add several napkins, a glass of wine and my, oh, my, you will think you hear angelic music.
These are so awesome.
This recipe is where, on gluten-free diets, milk products can be tolerated  so now everyone  can simply enjoy without concerns.
3 – 8 oz, pkgs. cream cheese
1 cup white sugar
5 eggs, room temperature
1 tsp. pure vanilla
Preheat oven to 350 degrees. Line muffin tins with liners, if you use them. Otherwise spray with Pam or like product.
In a medium bowl cream together the cream cheese and sugar. Stir in the eggs, one at a time and then add the vanilla. Spoon into the muffin tin to 3/4 full.
Sour cream Topping
8 oz. sour cream
1 cup white sugar
1 tsp. pure vanilla extract
To make the topping, whisk together the sour cream, sugar and vanilla until completely smooth. Spoon into the center of each muffin.
Bake for 30 minutes in oven until a golden brown. Remove from the oven and cool down for 5-10 minutes. Now return it to the oven and bake for additional 7 minutes until set. Place pans on rack to cool,.
DO NOT remove from the oven until completely cool.
These are really very delightful and not the same old-same old muffins we always seem to fall back on. Enjoy!
1 3/4 cups flour ( sifted)
1 tsp. baking powder
1/2 tsp. baking soda
1/4 tsp. salt
1/2 cup melted butter
1 – 8 oz. pkg. cream cheese
2 large eggs (room temperature)
1/4 cup light cream
1 tsp. vanilla
1/4 cup seedless raspberry jam
1/4 cup butter, softened
1/4 cup flour
1/4 cup packed brown sugar
1 tsp. cinnamon
Preheat oven to 350 degrees. Grease muffin tin. In a large bowl combine the first 4 ingredients. In another bowl cream the butter and cream cheese with a mixer until fully blended and add one egg at a time beating well after each addition. Beat in the cream, vanilla and jam. Mix with the dry ingredients until moist but still lumpy.
Mix the last 4 ingredients and sprinkle over he top of each muffin. Bake for 20-25 minutes and cool a couple of minutes before removing from the muffin tin.
Make a
Let me begin with a comment from the photographer of my cookbook "These are the best cinnamon buns I have ever had". Thanks Jonathan.
1 cup warm milk (approx. 110 degrees)
2 eggs, room temperature
1/3 cup melted butter
4 1/2 cups flour
1 tsp. salt
1/2 cup white sugar
2 1/2 tsp. quick-rising yeast
1 cup brown sugar, packed
2 1/2 tbsp. ground cinnamon
1/3 cup butter, softened
1 (3 oz.) pkg softened cream cheese
1/4 cup softened butter
1 1/2 cups icing sugar, sifted
1/2 tsp. pure vanilla extract
1/8 tsp. salt
Place ingredients in a bread machine in the same order the manufacturer recommends. Select the dough cycle and press start. After the dough has doubled in size, turn out on a floured surface. let dough rest for about 10 minutes. In a small bowl, combine the brown sugar and cinnamon.
Roll dough out to a 16 x 21 inch rectangle. Spread the dough with the softened 1/3 cup butter and sprinkle with the cinnamon/sugar mixture evenly over the surface.
Roll up and slice into 12 buns. Place the buns on a 9 x 13 inch baking pan that was buttered. Cover and let rise until almost double. Preheat oven to 400 degrees and bake until a golden brown.
While baking, beat together the cream cheese, 1/4 cup butter, icing sugar (sifted) vanilla and salt. Spread the frosting on warm buns before plating and serving.
When guests tell you they taste just like the ones in the mall – just smile!
Here is a great quiche. Serve this with warm muffins and freshly brewed coffee. What a wonderful way to start the day.
1 -9″ unbaked pie shell from frozen puff pastry
2 tsp. butter
12 slices of bacon, chopped
1 large red pepper, seeded and diced small
2 cups whipping cream (of course it is good for you)
4 large eggs
1/2 tsp. salt
pinch of cayenne pepper
1/2 tsp onion powder (no real onions, please)
1 cup grated Swiss cheese
Preheat oven to 425 degrees.
Saute bacon until crisp. Beat cream, eggs and spices until well mixed.
Sprinkle the pie shell with the drained bacon, red pepper and cheese.
Carefully pour the egg mixture on top. Bake in the oven for fifteen minutes, then reduce the temperature to 300 degrees and bake for approximately 40 minutes or until a knife inserted in the middle come out clean.
The flavour is really, really delicious and yes, men really do eat quiche.
Serve with fresh fruit and, of course, freshly brewed coffee.
I was going through my cookbook (The B & B Cookbook) from our Bed and Breakfast Days and found this was missing from the Damn I Can Do This site. So, here it is, just in time for Thanksgiving.
2 1/2 cups flour
4 tsp. baking powder
2 tsp. ground cinnamon
1 tsp. ground allspice
1 tsp. ground ginger
1/2 tsp. salt
1/4 cup brown sugar
1 cup canned pure pumpkin (not the pie mix)
2 cups milk
4 eggs, separated
1/4 cup melted Butter
Preheat waffle iron. Combine the first 7 ingredients in a bowl.
In a separate bowl, stir together the pumpkin, milk and egg yolks. Whip the egg whites until soft peaks form.
Stir the dry ingredients plus the melted butter into the pumpkin mixture, stirring just to combine. Fold in 1/3 of the egg whites, stirring until incorporated. Fold in the remaining egg whites.
Cook the waffles until a golden brown.
Syrup
1/2 cup white sugar
1 tbsp. cornstarch
1 tsp. ground cinnamon
1 cup apple cider
1 tbsp. lemon juice
2 tbsp. butter
Stir together the sugar, cornstarch and cinnamon in a saucepan and stir in the cider and lemon juice.
Cook over a medium heat just until the mixture begins to boil and continue cooking until it begins to thicken and then stir in the butter. Remove from the heat and serve warm with the waffles.
Everyone will love this and want more. Tell them to wait until Christmas….maybe!
Don loves this dressing so much and we always have to search it out and then find it his invention. Give it a go, it truly is a winner and you will want it on most of your salads.
1 garlic clove, halved
1 orange (juice of)
2 tbsp. red wine vinegar
1 tsp. sugar
pinch of salt
1 tsp. dry mustard
pinch of pepper
6 tbsp. salad oil
Put all in a mixing bowl and whisk together until completely combined. Remove the garlic cloves.  Store in the refrigerator until time to serve.
I am sure everyone grew up with meatloaf recipes being made often, especially in the colder months. Don made this recipe and it was so darned great, we had meatloaf sandwiches Day 1 and ….you have to read on for Day 2.
1/2 cup beef stock, divided
3 slices white bread, ripped small
6 oz. Cremini mushrooms, stems removed, chopped
1 onion
1 medium carrot, chopped
1 celery stick, threads removed
3 garlic cloves
2 large eggs, beaten
1  1/4 lbs. ground beef
3/4 lb. ground pork
2 tbsp. Worchestershire sauce
1 tsp. salt
tsp. pepper, divided
GLAZE
1/2 cup ketchup
2 tbsp. tomato paste
2 tbsp. brown sugar
Place the mushrooms, onion, carrot, celery and garlic in a food processor until finely chopped.
Put the bread in a large bowl and add the vegetable mixture, eggs, beef, pork, Worchestershire sauce, 1 tsp. salt and 3/4 tsp. pepper and mix lightly and thoroughly. Now here it gets a little different.
Use an oval loaf pan (10 x 12). Place the meat mixture on an 18 x 12 piece of HEAVY DUTY tin foil. Carefully place in the oval pan, pressing the meat up the sides and smooth the top of the meat.
Mix the glaze together and spread over the entire loaf. Place the pan on a parchment lined tray (in case it flows over ) ours didn't but it saves cleaning up a mess.
Bake in a 325 degree oven for 3 hours or until the temperature in the middle is 160 degrees.
Now….we bought previously, cheese hamburger buns from Save on Foods. Place them in the oven (sliced) for a few minutes until they are warm in the oven and the top is crispy to the touch. Bring them out, add your mayo, mustard and a generous slice of the meatloaf. OMG! These are wonderful. End of Day 1.
Wrap the pan in tin foil and place in the fridge for overnight.
Day 2, Slice the meatloaf so it can be fried to get a bit of a sear, serve with a green salad, corn on the cob (halved) and a green salad. Now, you should have a glass of wine/beer and this is to die for.
The flavours in this meatloaf will have you actually trying to lick your plate.
Our family really loves corn muffins and we find these are the 'super duper' of them all.  Give them a try, they are awesome.
1/2 cup melted butter
2 eggs
3/4 cup milk
1 can creamed corn (Green Giant is the best)
1/2 tsp. Baking Soda
3/4 cup yellow cornmeal
1 cup flour
2 tsp. Baking Powder
3 tbsp. sugar
pinch of salt
Preheat oven to 425 degrees.
Combine all the dry ingredients and, using a whisk, mix together.
Add the wet ingredients and when combined, spoon into muffins tins you have sprayed with Pam (or like product). Now, let the batter sit on the counter for about 5 minutes. This makes the difference.
Bake for 20 minutes. Brush the tops with melted butter, Cool 5 minutes and then remove from the tins and rest of a rack.
I can't explain to you the unbelievable flavour of this cake. We have company coming and I wanted to add this type of cake to a dessert I am also making.
It is super easy to make but WOW!
4 large eggs
1 cup butter, room temperature
1 cup sugar
1 1/2 cup flour
1/2 cup sour cream (not the light kind)
2 tsp. lemon flavour (or almond)
1/2 tsp. baking powder
Preheat oven to 350 degrees. Butter and flour a 9 x 5 inch baking loaf pan.
In a medium bowl, whisk together the flour and baking powder and just set aside.
In your electric mixer, cream the butter and sugar together until really light and fluffy. Scrape the bowl down and then add the eggs, one at a time, making sure to incorporate well.
Add the sour cream and flavouring. Mix until well combined and again, scrape the bowl down.
Add the flour mixture and mix well together, scraping down a few times. Use your spatula to transfer to your baking dish. Carefully smooth the top down.
Bake for about 40-55 minutes (depending on your oven).  Should have a light, golden colour. Test with a skewer.
When done, transfer to a rack to cool down completely. Cover with wrap before the family dives in and eats it all. Will keep in the fridge for a few days.
Bring to room temperature to slice and serve.
Let me preface this with "Yes, I did eat it" as I am not one for the unusual. For me, anyway.
1 lb. ground bison
1/2 cup panko bread crumbs
1 egg
3 tbsp. Worcestershire sauce
4 dashes of Tabasco sauce
1 pinch granulated garlic
pinch of black pepper
olive oil cooking spray
4 slices of cheese (American or Monteray Jack)
4 Brioche hamburger buns, split and toasted
Preheat barbecue grill and lightly oil the grate.
Mix the bison, panko crumbs, Worcestershire sauce, Tabasco, garlic and pepper mixing well together by hand and then form 4 patties.
Spray the patties with the Olive oil spray and grill until hot and barely pink in the center (about 5 minutes each side). Top each burger with a slice of cheese and cook until it has melted (about 1 1/2 minutes) An instant read thermometer placed in the center should read 140 degrees F (60 degrees C).
Place each burger on a bun half and serve with grilled caramelized onions, mustard, mayo, pickle, lettuce and tomato. Serve with french fries and you have a great dinner.
These really are very tasty. Give it a try. By the way, the picture shows a single patty only. That is not two. Honest!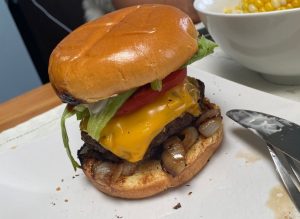 All credit for this recipe is from The Best of Bridge group. We have used this for years and as we are celebrating, with our kids and grandkids, our 30th Wedding Anniversary, I wanted to use it again. The  2020 Covid 19 year took a toll on everyone for sure.
2 lbs. Frozen Hash Browns
1 500 ml carton sour cream
2 tins cream of mushroom soup (Campbell's)
1/2 cup melted butter
2 cups of shredded cheddar cheese
light sprinkle of onion powder
parmesan cheese (or asiago)
Thaw the potatoes slightly for easier mixing. First mix the listed 6 ingredients and place in a 9″ x 13″ basking dish. Sprinkle the parmesan cheese on top and bake at 350 degrees for about 1 1/2 hours.
This will serve 8-10 people. Double it if there are more. I think I will.
Serving can be Brunch, Lunch or Dinner. Depends on you. But be sure to say "Thank you Ladies