These are absolutely lovely and delicious. The suggestion of these makes my mouth water.
2 lbs. Yukon gold potatoes
1/2 cup melted butter
1/4 cup grated onion
salt and pepper
Peel potatoes and slice paper thin. Generously butter a pie plate or muffin tins. Arrange the potatoes by overlapping each slice around the sides of the dish to form a firm wall. Cover the bottom with overlapping slices and then lightly brush with the butter, grated onion, salt and pepper. Repeat the layers until all ingredients are used.
Cover lightly with tin foil and bake at 400 degrees for 30 minutes. Remove the foil and bake another 30 minutes until the top is well browned. Remove from the oven and unmold.
This will make 6 servings.
This is a good recipe for those who love lamb. This one is marinated overnight so be sure to get started the day before you wish to feast. The Yukon gold potatoes are a perfect match. Then, of course, of a perfect Merlot.
4 garlic cloves, coarsely chopped
4 tsp. kosher salt, plus a little more for sprinkling
1/4 cup  fresh rosemary, plus 2 tbsp. finely chopped
3/4 cup olive oil
2 tbsp. lime juice, fresh
1 tsp. black pepper
1 – 8 lb. bone in, leg of lamb, large pockets of fat trimmed off
8 x 7 oz. (approx.) yukon gold potatoes, halved lengthwise
Pound the garlic and 4 tsp. kosher salt with a mortar and pestle until a paste forms. Add 1/4 cup rosemary leaves and peel from one lime. Pound well for about a minute. Stir in one cup olive oil, lime juice and pepper into the paste.
Plac e lamb, fat side up, on work surface, Cut shallow slits into the fat about 1/2 inch apart. Spread 5 tbsp. of the paste into the slits. Turn the leg over and repeat the process. Wrap the leg in plastic and place in a roasting pan. Chill overnight.
Preheat the oven to 425 degrees. Remove the wrap from the lamb leg and brush the leg with oil.  Roast for 15 minutes.
Place the potatoes in a large bowl. Add 1/4 cup of the oil and 2 tbsp. of the chopped rosemary. Sprinkle with salt and pepper and toss to coat.
Reduce the oven to 350 and arrange the potatoes, cut side down around the lamb. Roast 40 minutes. Using a spatula, carefully turn the potatoes over and b rush with the pan drippings. Roast a further 10-15 minutes, until the potatoes are tender.
Transfer the potatoes to a platter and continue to roast the lamb until an instant-read thermometer reads 130 – 133 degrees when inserted  into the thickest part of the leg. Let rest for 20 minutes. While the meat is resting, return the potatoes to the pan and warm in the oven for 10 minutes to heat through.
Arrange the potatoes and lamb on a plattter and show off to all those sitting around the table. This makes 8 servings, so invite your friends to help you share n this.
Your only question should be "more wine???"
There is nothing better, I swear, than a bowl of PERFECTLY mashed potatoes on the plate with gravy, steak or poultry. YUM!
4 1/2 lbs. Yukon gold potatoes (best for mashed potatoes), peeled,
1 stick of butter
1 cup or more of whipping cream
1 1/4 cups of grated parmesan cheese
Italian parsley – optional
Cut the potatoes in cubes and cook for about 20 minutes  in a pot of boiling water. Drain well and put in potato ricer,  then put potatoes in bowl of electric mixer, add the cream and cheese and mix well.
Add a pinch of salt and mix in. Taste…..okay, that's enough! Leave some for the table.
If dining 'family style' add a few sprigs of italian parsley.
If plating in the kitchen, use your imagination and make it look really good. After all, we eat with our eyes first, then the stomach.
Now that caught your interest, didn't it? Sometimes, when preparing a big family dinner as in Easter, Christmas, Birthdays, etc. we end up making the same old mashed potatoes.  This recipe is a step up and a litle taste tantalizer.
2 lbs. Yukon Gold potatoes
2 lbs. parsnips
2 tbsp. butter
3 tbsp. sour cream
1/4 cup extra virgin olive oil
2 whole black peppercorns
1 small bay leaf
1/2 inch cinnamon stick
1 small rosemary sprig
Bring to a simmer the olive oil, peppercorns, bay leaf, rosemary sprig, cinnamon stick in a saucepan over low heat.   Remove from heat and let stand, covered until completely cool.
Peel both the potatoes and parsnips and chop into small cubes.  Cook  until tender. Drain and mash with a potato masher and move this to your electric mixer.  With the infused oil, butter and sour cream, whip the potatoes and parsnips together until no lumps appear.
Put in a big bowl (family style) or plate, but top off with a smidgeon of freshly grated nutmeg.
Very tasty and a bit different.
This should be made the day before and will also allow more time for other pressing things to do. This recipe serves 8
You will need:
4 tbsp. extra virgin oil, divided
3 lbs. Yukon potatoes, peeled, cut lengthwise into 1/8″ slices
1 tsp. salt, plus a pinch for the mushrooms
1  1/2 cups whipping cream, divided (more if needed)
1 cup grated FRESH parmesan cheese, divided
3 garlic cloves, sliced very thin
1 lb. button white mushrooms
Preparation:
Preheat oven to 350 degrees
Brush 13 x 9 inch baking dish with olive oil. Arrange 1/3 of the potatoes  in the dish, slightly overlapping. Sprinkle with a little of the salt.
Pour about 1/3 of the cream over top and about 1/4 of the cheese. Repeat layering as above 3 more times. Bake uncovered about 40-45 minutes. Adding more cream, if necessry to keep moist.
Slice mushrooms and toss with remaining oil and layer over top of the potatoes being sure to go to the edges. Drizzle 1/4 cup of cream over top of the mushrooms and 1/4 cup of cheese.
Continue baking for another 20 minutes until the potato edges are golden.
When making ahead, cool one hour. Cover and place in the fridge. Before serving, cut into serving portions, place on a parchment lined cookie sheet and heat in a 350 degree oven for about 15-20 minutes.
The smells coming from your kitchen when making this will probably have your neighbors forming lines outside your door. My husband always comes in and says, 'Man, that sure does smell good. Too bad dinner is not today"
This is rich but ever so good.  Now say, Damn, I did this…your guests will be impressed for sure.
I love chowders and this one has a lemony taste to it. Give it a try!
You will need:
4 cups chicken stock
1 garlic clove
3-4 large gold potatoes
2 sticks of celery, ribs peeled,
1 small carrot, chopped small
pinch of salt/pepper
zest from one lemon
5-6 slices of bacon, cooked crisp and crumbled
2 cups whole kernal corn (off cob or drained canned corn)
3/4 cup whipping cream
fresh dill, chopped
Cook bacon until crisp and crumble. Set aside.
In a large pot combine all the ingredients and bring to a boil. Simmer for about 20 minutes (until tender) and liquid has reduced  and thickened a little. Add the lemon zest and cream, continuing to simmer for about 5 minutes. At this point do not bring to a full boil.
Serve in a pretty bowl and garnish with the bacon and a touch of  fresh dill.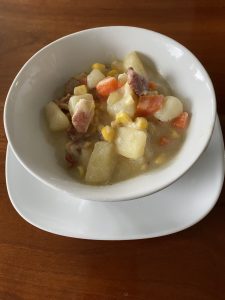 Oooh this is so good. You will love it, I know.
Serves 4
1/2 cup Pancetta, cooked and crumbled
4 medium potatoes (Yukon gold is best), chopped
1/4 small onion, finely chopped
2 cups water
3 cups cream style corn
Salt and pepper to taste
2-2 1/2 cups whipping cream
1/2 wedge Champ Fleury cheese
Preparation:
Saute pancetta until crisp and then crumble. In a saucepan, add chopped potatoes and onions, and the crumbled pancetta. making sure not to burn the pancetta. Add everything except the cream.  Cook until the potatoes are done, slowly add the cream, stirring constantly. Cut the soft rind off the cheese and add to the soup, stirring until completely melted. Do not boil.
I love a thick chowder and this one fills the bill for comfort food.
This makes two pies…one for now, one for later or if really, really hungary……
You can make it with whatever meat you like. You will need:
2 lbs. meat, boneless,
2 tbsp. MILD curry paste
2 tbsp. vegetable oil
1 large onion, thinly sliced
4 cloves minced garlic
1 tbsp. fresh minced ginger
3 cups sodium reduced beef stock
2 red peppers, chopped
1 seeded and minced jalapeno pepper
1 lb. yukon gold potatoes, peeled and cubed
2/3 cup flour
2 boxes frozen deep dish pie shells, thawed (oh, go ahead and cheat a little)
The day before, place the meat (cut into 1 inch cubes) in a large bowl and add the curry paste. Stir well to cover and leave in the fridge overnight.
Next day, in a large frypan, heat the oil on medium heat. Brown the meat in batches and remove to a plate. Add the onion, garlic, ginger and 1/2 cup of beef stock and cook for about 5 minutes until softened. Add the peppers and cook a further 2 minutes.
Add the meat to the saucepan and add the remaining stock and potatoes. Bring to a boil. Now reduce the heat and cook for 30 minutes until tender.
Preheat oven to 375 degrees. Whisk flour and 1 cup of water until smooth. Drizzle into meat mixture and bring to a simmer and cook, stirring continually for about 5 minutes until thickened. Let cool but stir from time to time.
Place the two thawed pie shells on a baking tray and divide the filling evenly. Now roll out the top pastry and cut into 3 inch circles. Place the circles by laying them flat on the bottom shelf of the oven. Bake for about 30 minutes.
When serving, place a circle of the pastry on top. Looks great and tastes even better.